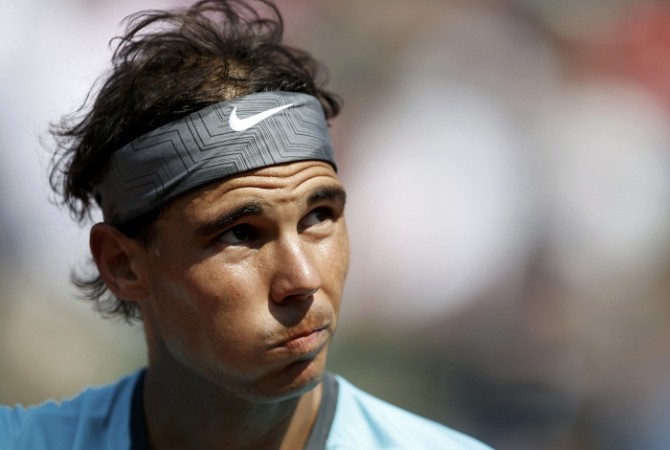 Top seed Rafael Nadal, who has been troubled by a back injury, is set to face Serbian Dusan Lajovic in the fourth round of the 2014 French Open at the Court Philippe Chatrier on Monday.
Nadal, after a positive week at the Roland Garros, has emerged a clear favourite to clinch his record-extending ninth French Open title. The Spaniard outclassed Argentina's Leonardo Mayer in straight sets in his last match, and is now all set to book a quarterfinal spot.
Lajovic, like Nadal, has not dropped a set in the competition so far but the King of Clay will be a totally different ball game altogether. Nadal is on prime form, and is hitting winners on both flanks at will, while the unforced errors are also on the lower side.
"It was a positive (first week)," Nadal said after beating Mayer. "I have three matches that I think I played under control. That's always positive and good. Always (being in) the second week is great news, and winning in straight sets is a little bit better. I'm happy for that."
This will be Nadal's first clash with Lajovic but the eight-time winner said he has seen the 27-year-old Serb play a few times and is ready to face him. Lajovic is yet to win a match against a top 10 player, and had won just five matches on tour before the French Open.
The world number 83 said he has always dreamt of playing against Nadal at a Grand Slam and is happy to face the 13-time major winner at Roland Garros.
"It's my first Roland Garros main draw appearance and first time in the fourth round, so I can't be more happy than this," Lajovic said. "Maybe to play Rafa on Chatrier is one of the biggest dreams and biggest challenges. So for sure it's not going to be easy.
"You need to have a lot of tips and confidence to beat [Nadal], but I hope to enjoy the match if he wins and to give my best."
Nadal might be a clear favourite to clinch the tie but the world number one has been hit by a back trouble, which might halt his chances later in the tournament, if not now. Nadal said he is feeling some stiffness in his back, because of which he has cut down power on his serve.
"I felt my back a little bit so that's why I slowed down the serve," the Spaniard said. "I felt it a little bit from the beginning and in the second match I was not serving that fast, too. I had a few strapping on and in the second set I was feeling the pain."
"During my career I have had a few problems so always things can happen. Hopefully, it will not be the case here."
The back trouble had hit Nadal during the 2014 Australian Open final against Stanislas Wawrinka, and he failed to put any power in serve, eventually losing the match in four sets.
Where to Watch Live
The match between Rafael Nadal and Dusan Lajovic is scheduled for 4:30 pm IST, 11:00 am GMT and 7:00 am ET start, with live coverage on NBC Sports and ESPN 2 in the US and NEO Prime and NEO Sports in India. International viewers, including India, can catch the action via live streaming HERE or HERE. Listen to the action HERE. Viewers in the US can live stream the matches HERE or HERE, while the tie can be live streamed by the UK viewers HERE.