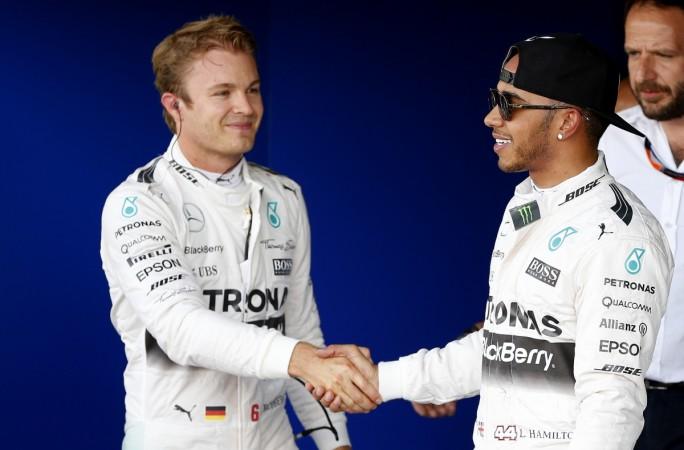 Can anyone stop Mercedes seems to be question on F1 fans around the world. Once again, Mercedes head into the British Grand Prix 2015 race day with two of their drivers -- Lewis Hamilton and Nico Rosberg -- in the first and second grid after finishing first and second respectively in the qualifying round.
Hamilton took pole position with a timing of 1m 32.248s, while Rosberg finished second with 1m 32.361s.
Hence, Hamilton and Rosberg, who have been the best two drivers in the season, will go in as favourites for the British Grand Prix 2015 at Silverstone as well. Lewis Hamilton has been mighty impressive in the nine grand prix this season as he has finished in pole position eight times, which is an incredible feat.
Hamilton, who has already won four races this season, will be going for his fifth win and Rosberg has been his biggest rival as the latter has won three out of the four races. As a result, Rosberg has closed the gap in the drivers standings to 10 points only.
Another win here for Rosberg will make the fight even more interesting.
Other F1 drivers have not been able to put much pressure on the Mercedes racers, which is a cause of concern. If things follow a similar pattern in the coming races as well, either Hamilton or Rosberg could walk away with the title.
Sebastian Vettel, who is third in the drivers' standings, will start the race at the sixth position. Vettel is the only driver apart from Hamilton and Rosberg to have won a race this season. Vettel emerged victorious in the Malaysian Grand Prix.
Other than Mercedes, Williams also had a good day in the qualifying as their drivers Felipe Massa and Valtteri Bottas will start the race in third and fourth positions respectively in the grid. They were even better than both the Ferrari drivers -- Kimi Raikonnen and Vettel. But, their biggest test will be on Sunday as to whether they can hold on to their positions as Ferrari are going to press Williams to the hilt.
Massa hopes that Mercedes can be ahead of Ferrari on Sunday after the British Grand Prix 2015 race as well.
"It's also our home grand prix for the team, so I'm sure it was great to see me and Valtteri third and fourth. We were fighting each other through the qualifying, especially in Q3. I just managed to get a fantastic lap at the end and improve a little bit his lap time," F1 official website quoted Massa as saying.
"So happy and really looking forward tomorrow that we can have a very strong race, especially in this fight with Ferrari, so today was a very important day for us to see that we can be in front of Ferrari with both cars. I hope we can be also tomorrow. It's really nice and I'm very happy with what we did today and we just need to concentrate for tomorrow now."
However, the Mercedes drivers are hot favourites to win the British Grand Prix 2015. Lewis Hamilton will be under some sort of pressure to clinch the trophy in front of his home fans.
"It's a special day. It's special when you get the pole position here on your home turf. So many people have come today and this weekend and they really do motivate me through the weekend, so it's particularly special when you do get the pole," said Hamilton.
The fans are expected to pour in huge numbers on Sunday as well and support Hamilton to cross the chequered flag first.
Where to Watch Live
The British Grand Prix race will start at 1 pm local time (5:30 pm IST, 8 am ET).
| | |
| --- | --- |
| Country | TV Broadcaster |
| India | Star Sports 4, Star Sports HD 4 |
| US | NBC Sports |
| Canada | TSN 2 |
| United Kingdom | Sky Sports F1, Sky Sports F1 HD |
| Middle East and North Africa | Bein Sports Arabia |
| Germany, Italy | Sky Sport |
| France | Canal+ |
| Asia | Fox Sports |