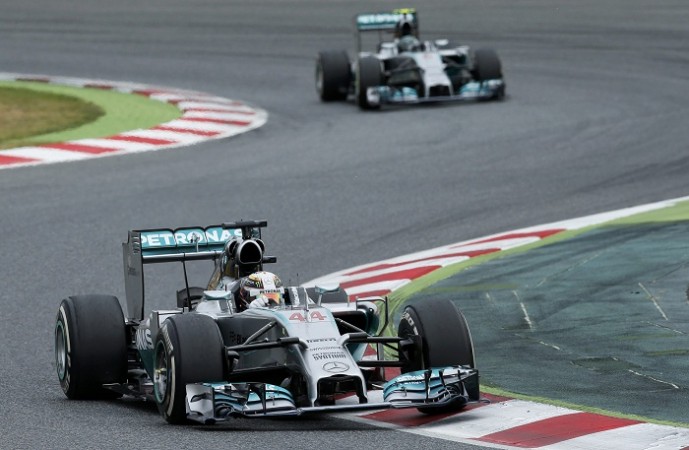 Having picked up an impressive 4 out of 7 wins at Hungaroring, Lewis Hamilton will be aiming at clinching a record 5th Formula One Hungarian Grand Prix title in Budapest on Sunday, while also looking to close in on leader and Mercedes teammate Nico Rosberg.
Hamilton came out on top during both free practice sessions on Friday with a time of 1:25.814s during the first and 1:24.482s during his second with Rosberg claiming second spot after clocking 1:24.720 during his second.
With just a 0.242 second advantage over the German, it could be a close contest for Hamilton in qualifying on Saturday.
World champion Sebastian Vettel, who finished third last year, finished third during the second session with a time of 1:25.111 while Force India duo Nico Hulkenberg and Sergio Perez placed 13th and 15th respectively.
In a post-practice interview, Vettel stressed on the fact that the upgrade that his car received before the German Grand Prix did not help him much during the race and hoped for the newer upgrade to see him through better results on Sunday.
"In general Renault and Total are pushing really, really hard. Last weekend we were expecting an upgrade which just didn't bring the advantage we were looking for," he was quoted as saying by F1's official website.
"Tomorrow we should have a bit of a step up between Friday and Saturday, which is normal all the way down the pit lane, with people running fresher engines and able to use a little bit more power. We will have to wait and see where we are tomorrow."
After Rosberg's contract extension with Mercedes last week, Hamilton was quizzed by media about his future plans and whether he would like to continue with his current team as well.
"I've shown an interest in sitting down and talking. We haven't sat down yet, but the team know I'd like to push to continue, and they have made clear they would like to do the same," the Brit said.
"I've been with Mercedes since I was 13, so I very much feel I've Mercedes imprinted on my chest. It's very much a family for me. You never know what's going to happen in the future, but I can't particularly see myself anywhere else."
In light of the several rumours suggesting Vettel could join Mercedes after his contract with Red Bull expires in 2016, Hamilton said: "If they happen to want someone else then I'm not going to whinge about it. There are places for everyone."
Vettel had a very different answer to give. "That's a weird question for a Friday afternoon just after practice. I can assure you for the last one and a half hours I didn't think about that," the German said.
Rosberg will be aiming at extending his lead by winning on Sunday, and the championship leader is confident he has the car to finish on top of the podium again.
"Yes, we should do well here. The track suits our car -- we've shown that this afternoon," Rosberg said on Friday. "The car felt fantastic and moves through the corners incredibly fast.
"I will work with my engineers on the setup choices for tomorrow as qualifying is quite important here, as overtaking is one of the tougher things on this track. I think with the tailwind of the German win, it should make an interesting race on Sunday."
Where to Watch Live: Qualifying starts 5.30 pm IST, 1 pm BST, 8 am ET
| | |
| --- | --- |
| Country | TV Broadcaster |
| India | Star Sports 4, Star Sports HD2 |
| US | NBC (Practice 2) |
| Canada | TSN 2 (Practice 2) |
| United Kingdom | BBC, Sky Sports |
| Middle East and North Africa | Bein Sports Arabia |
| Germany, Italy | Sky Sport |
| France | Canal+ |
| Asia | Fox Sports |