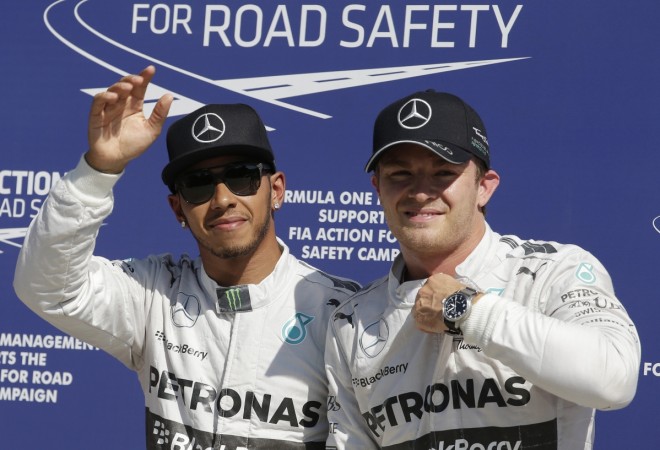 The 13th race of the 2014 Formula 1 season takes place at Monza, the home of the Italian Grand Prix.
Mercedes' Lewis Hamilton grabbed the headlines in the qualifying as he beat teammate Nico Rosberg to pole position for the first time since the Spanish Grand Prix.
While Hamilton completed the qualifying in 1:24.109s, Rosberg was just behind with a time of 1:24.383s. The third and fourth place was claimed by Williams drivers Valtteri Bottas (1:24.697s) and Felipe Massa (1:24.865s), who finished just ahead of McLaren duo Kevin Magnussen (1:25.314s) and Jenson Button (1:25.379s).
The highlight of this race will be knowing whether teammates Hamilton and Rosberg, who are currently first and second on the table respectively, will be able to continue their dominance in Monza, after their unfortunate collision in the Belgian Grand Prix.
"I feel excited for tomorrow. I'm very proud of my guys. My guys on the side of the garage have also been through the difficult time with me and they've done a remarkable job in terms of every time bouncing back and fixing the car and dealing with the difficulties so we've done this as a team and it's great to have another one-two for the team and I'm really proud that I can be up there for them," Hamilton told Formula 1's official website, after finishing first in the qualifying.
However, Hamilton feels that his teammate Rosberg will get a lot of competition from Williams in this race.
"I think they're working extremely hard. I hope that we also have some competition from these guys [Williams]; I think that would be really great for the fans" he added.
Rosberg also echoed his teammate's thoughts, saying that anything could happen during the race.
"It's a long race you know, everything can happen and so just need to now work towards the race and try to get a good start and have a good race. Anyways, also, I mean, definitely the team again," said the German.
Williams driver Bottas, who finished in third place during the qualifying, feels that his team will be able to challenge Mercedes on Sunday.
"From Friday to today they seem to have a bit more pace. In qualifying we expected that maybe we could be a little bit closer to them today but yeah, I really hope so. I think we have solid race pace and it just depends how much more pace they have left than on Friday," Bottas stressed.
Meanwhile, Ferrari driver Fernando Alonso, who was expected to do well in the qualifying, having won two races in Ferrari's home circuit in the last four years, finished a lowly 7th place, with a time of 1:25.430s.
Still, the Spaniard says that he is looking forward to doing well in the race.
"Unfortunately today, we could not have done better, because even though I was trying my hardest, we set very similar times with all four sets of tyres. Now, we must look ahead to the race, which will be a tough one and, given how small the gaps are, it could also be very interesting," Alonso said.
Last season, Red Bull's Sebastian Vettel won the Italian Grand Prix, with a time of 1:18:33.352, followed by Alonso and Red Bull's Mark Webber.
Where to Watch Live
Race Start (Sunday): 2:00 pm CEST, 5:30 pm, IST, 1:00 pm BST
| | |
| --- | --- |
| Country | TV Broadcaster |
| India | Star Sports 4, Star Sports HD2 |
| US | NBC |
| Canada | TSN 2 |
| United Kingdom | Sky Sports F1, Sky Sports F1 HD |
| Middle East and North Africa | Bein Sports Arabia |
| Germany, Italy | Sky Sport |
| France | Canal+ |
| Asia | Fox Sports |