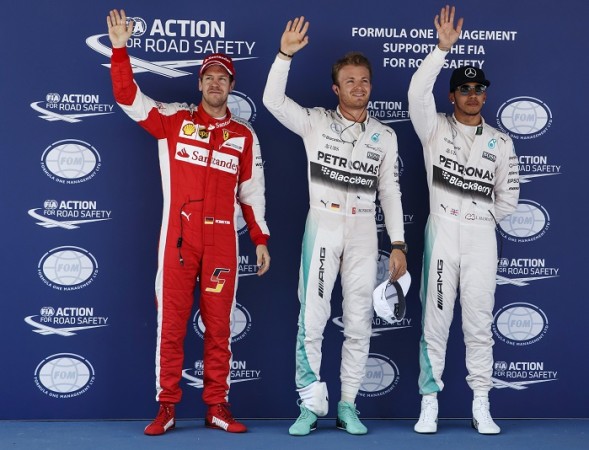 Mercedes appear as the dominant force again ahead of the Spanish Grand Prix as Nico Rosberg secured the pole position while his teammate Lewis Hamilton finished second in the qualifying sessions on Saturday.
Hamilton was faster than Rosberg in Q1, but the German was much quicker in Q2 and Q3, finishing the final session with a time of 1:24.681s, 0.267s quicker than the defending champion.
Ferrari's Sebastian Vettel, meanwhile, finished third with a time of 1:25.458s followed by Williams' Valtteri Bottas, who recorded a time of 1:25.694s.
Toro Rosso duo Carlos Sainz (1:26.136s) and Max Verstappen (1:26.249s) secured the fifth and sixth positions respectively, followed by Ferrari's Kimi Räikkönen (1:26.414s) and Red Bull's Daniil Kvyat (1:26.629s).
Finally, Williams' Felipe Massa and Red Bull's Daniel Ricciardo, who were the final drivers to qualify for Q3, finished in ninth and 10th places with a time of 1:26.757s and 1:26.770s respectively.
Hamilton, who failed to secure the pole position for the first time this season, admits that he lacked pace on Saturday as he was not comfortable with the balance of the car.
"It was quite tricky out there today. I did the best I could - but it wasn't quite fast enough and Nico did a really good job. I think he's been a bit more comfortable with the balance than I have so far this weekend," the two-time champion told Formula 1's official website.
Although Hamilton admits that Rosberg has a good advantage on Sunday, he insists that he will still be trying to win the race.
"Of course, being on pole makes life a bit easier but it doesn't mean you can't win from elsewhere on the grid," he added.
"Every race you do, you're thinking about racing for the Championship and I'll keep driving the same way I always do. It may not have been the greatest weekend so far but it's not over yet - tomorrow is where it counts."
Rosberg, on the other hand, says that he is pleased with his performances in qualifying and he will now be looking to do even better on Sunday.
"I really feel great in the car this weekend and was able to improve from session to session. So now I hope to have a good start and to control it from there," the German told F1's official website.
"I'm really looking forward to tomorrow and can't wait for the race. It's been a positive start but Sunday is where it really counts."
Ferrari's Vettel, meanwhile, says he is pleased with his performances in qualifying on Saturday, although he admits being behind the Mercrdes duo is not really a "great place" to be.
"It's not a great place to be behind Nico and Lewis, but I think it's the maximum we could do today, so I'm happy with qualifying," the four-time world champion told F1's official website, adding that he is hopeful that Ferrari will be better on Sunday.
"Hopefully the conditions tomorrow will come towards us and we'll be a bit stronger again. We'll do our best, as always."
Last season, Hamilton emerged victorious in the Spanish Grand Prix with a time of 1:41:05.155, followed by Rosberg (+0.636s) and Red Bull's Ricciardo (+49.014s).
Where to Watch Live
Race Timings: 2pm - 4pm local time, 5:30pm - 7:30pm IST, 1pm - 3pm BST
| | |
| --- | --- |
| Country | TV Broadcaster |
| India | Star Sports 4, Star Sports HD 4 |
| US | NBC Sports |
| Canada | TSN 2 |
| United Kingdom | Sky Sports F1, Sky Sports F1 HD |
| Middle East and North Africa | Bein Sports Arabia |
| Germany, Italy | Sky Sport |
| France | Canal+ |
| Asia | Fox Sports |