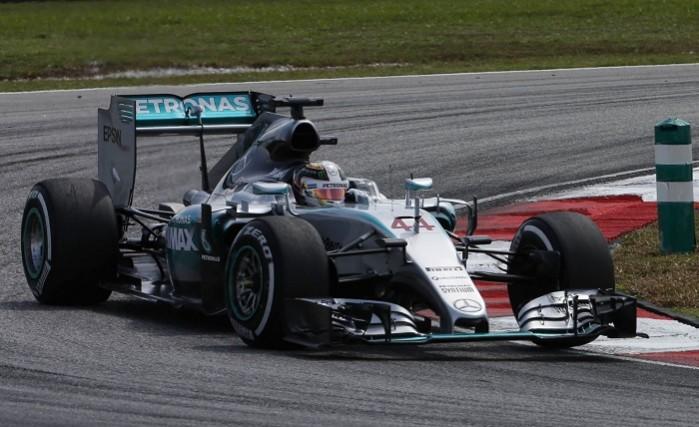 After a grand start to the new Formula 1 season in Australia, the Formula One action moves to Asia as teams battle for supremacy in the Malaysian Grand Prix.
Mercedes continued their dominance at the Sepang International Circuit as Nico Rosberg and Lewis Hamilton finished top in the first and the second practice sessions respectively.
Hamilton could not complete the first practice session due to some hardware issues with the power unit, and this allowed his teammate Rosberg to finish first in that session with a time of 1:40.124s.
Ferrari drivers Kimi Raikkonen (1:40.497s) and Sebastian Vettel (1:40.985s) came second and third respectively, followed by Lotus' Romain Grosjean (1:41.543s) and Toro Rosso's Carlos Sainz (1:41.596).
In the second session, Hamilton, after sorting out his engine problems, was the fastest with a time of 1:39.790s. Raikkonen came second with a time of 1:40.163s followed by Rosberg, who clocked 1:40.218s.
Red Bull's Daniil Kvyat was able to climb up to the fourth position with a time of 1:40.346s, following by Williams' duo Valtteri Bottas and Felipe Massa, who finished with a time of 1:40.450 and 1:40.560 respectively.
Vettel finished in the seventh position (with a time of 1:40.652s) in the second session due to car spinning during his first hot lap on the medium tyres.
Although Mercedes was able to finish on top in both the sessions, Hamilton says that he was surprised after seeing Ferrari's speed in practice.
"The Ferraris look great, they really do," said Hamilton, according to ESPN. "Surprising to see how good their times are and we'll see how close they are this weekend."
The 30-year-old reigning world champion admits that his preparations for the race on Sunday has been "heavily compromised" due to his car troubles in the first session.
"They've been pretty heavily compromised. Whenever you lose a session that definitely doesn't help, as well as half if not more of the second session. The team did an amazing job to re-build the car and I'm very grateful. Just to have got some laps was crucial. Sunday will be hard."
His teammate Rosberg, meanwhile, feels that tyre management will be the key during Sunday's race due to the high temperatures in Malaysia.
"We have different tyres this year and supposedly they suffer a bit less but it doesn't seem like it at the moment," said Rosberg, according to ESPN. "Then again, we had record track temperatures out there - it was more than 60 degrees on the asphalt. You can imagine, we're sitting on the ground and I can actually feel the asphalt through the chassis. The 60 degrees comes straight into the cockpit and it's extremely hot in the car."
Where to Watch Live:
Qualifying Timings: 5:00 pm - 6:00 pm local time, 2:30 pm - 3:30 pm, IST, 8:30 pm - 9:30 pm GMT
| | |
| --- | --- |
| Country | TV Broadcaster |
| India | Star Sports 4, Star Sports HD2 |
| US | NBC (Practice 2) |
| Canada | TSN 2 (Practice 2) |
| United Kingdom | Sky Sports F1, Sky Sports F1 HD |
| Middle East and North Africa | Bein Sports Arabia |
| Germany, Italy | Sky Sport |
| France | Canal+ |
| Asia | Fox Sports |