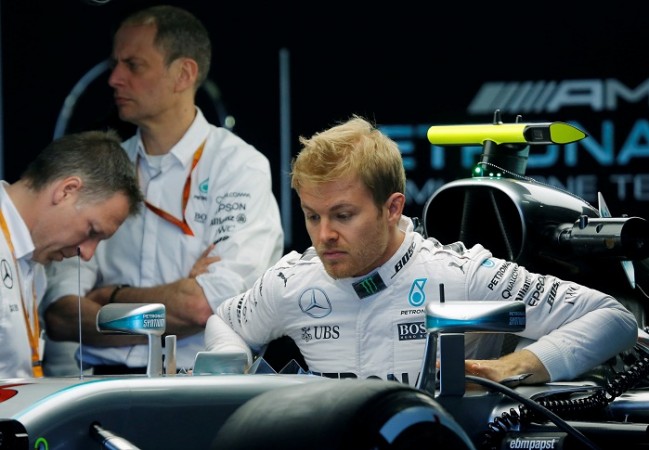 All eyes are on Nico Rosberg as the German prepares to clinch his fourth straight race in 2016. The Mercedes driver has been flawless in Formula One this season. Despite challenges from Red Bull and Ferrari, Rosberg has stood tall, and emerged victorious, which makes him the top favourite for the Russian Grand Prix in Sochi, which starts on Friday with the practice session.
While Rosberg has impressed, his Mercedes teammate, Lewis Hamilton, has been below par in the first three races of the season, accumulating only 39 points, compared to Rosberg's 75. The defending champion finished seventh in the last Chinese Grand Prix. It is time for the British driver to shine and improve upon his performances, or else it is going to be tough for Hamilton to defend his title.
However, in the constructors' championship, Mercedes enjoy a healthy advantage with 114 points over Ferrari, who are in second place (61). Ferrari might have an improved car this season, but it was only in the Chinese Grand Prix that both their drivers – Sebastian Vettel and Kimi Raikkonen – finished the race.
Rosberg is well aware of the threat Ferrari possesses during the Russian Grand Prix.
"I'm just realistic and Ferrari, amongst others, just haven't shown what they can do yet. They've taken each other out in the last race, for example, in the first corner and from then it was just messy, an an example. A lot of things have been going wrong and for sure they are a lot quicker than they have shown and we think they are very, very close to us," F1 official website quoted Rosberg as saying.
Though the focus is primarily on the big two -- Ferrari and Mercedes -- Red Bull have been mighty impressive in Formula One this season as well.
Red Bull have shown that they are keen to challenge the top teams in Formula One. Their drivers – Daniil Kvyat and Daniel Ricciardo – have been great this season, and showed their class in the Chinese Grand Prix, finishing third and fourth respectively.
Their last race has been the most successful so far, but they will want to challenge Rosberg even more, and fight it out against the top teams. Kvyat is pleased with his car as he looks to gain important points in Sochi.
"You know, lately we have been competitive on most of the tracks – doesn't really matter, any kind really, starting with Australia, Bahrain, China we always looked in quite good shape." Kvyat said.
"I think Sochi also in the past for us maybe hasn't been the easiest track, as a team, but now we are just coming to any track and we are just trying to extract everything the car has got and I believe also here we can fight for quite strong points. We will do our best and I think the car is looking in great."
Mercedes, Ferrari and Red Bull will fight it out for the top spot, but other teams like Force India, Williams and Toro Rosso will be keen to earn points in the Russian Grand Prix.
Where to Watch Live (Russian Grand Prix practice session complete schedule)
First Practice Session (Friday): 10 a.m local time, 12:30 p.m. IST, 3 a.m. GMT
Second Practice Session (Friday): 2 p.m. local time, 4:30 p.m. IST, 7 a.m. GMT
Final Practice Session (Saturday): 12 p.m local time, 2:30 p.m. IST, 5 a.m. GMT
| | |
| --- | --- |
| Country | TV Broadcaster |
| India | Star Sports 4, Star Sports HD 4 |
| US | NBC Sports |
| Canada | TSN 2 |
| United Kingdom | Sky Sports F1 |
| Middle East and North Africa | Bein Sports Arabia |
| Germany, Italy | Sky Sport |
| France | Canal+ |
| Asia | Fox Sports |