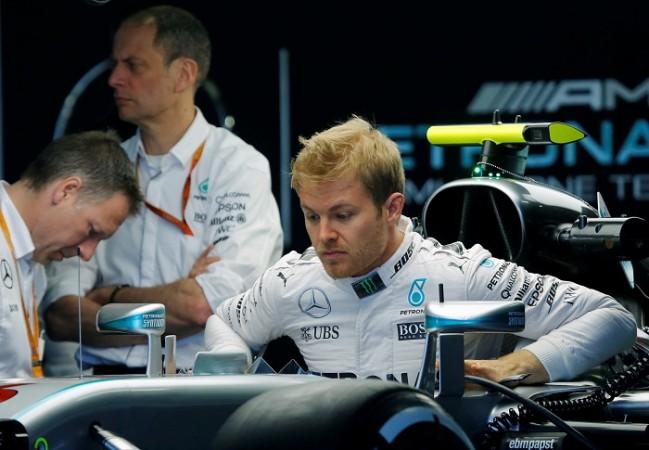 Nico Rosberg has managed to clinch pole position after an impressive display during the German Grand Prix qualifying session on Saturday. His team mate, Lewis Hamilton will start the race in second position from the grid, followed by two Red Bull drivers – Daniel Ricciardo and Max Verstappen on Sunday.
With Mercedes and Red Bull drivers taking the first four positions, an interesting race is on the cards, but the focus will be on Rosberg and Hamilton. The duo has been superb in the F1 2016 season, with Hamilton accumulating 192 points and Rosberg has 186.
Though Mercedes have been dominant this season, their cars have given both the drivers some problems. Rosberg suffered an electronic glitch in the qualifying session, but still won pole. He hopes that the problem does not arise during the German Grand Prix race.
"No, I don't know what it was. It just suddenly... how do you say... it just suddenly lost the throttle. So just cut completely the engine, just at the end of the lap. That was disappointing but I'm sure we'll fix it for tomorrow. It's never happened before, so I'm sure it will be OK. Definitely it will be an exciting race against Lewis and the Red Bulls and maybe also the Ferraris but they're a bit further back it seems," Rosberg told reporters.
The battle for the German Grand Prix title is expected to be fought between Rosberg and Hamilton, with the latter having been brilliant in the last few races, winning five of the last six. But, Ricciardo, who has been one of the other consistent drivers in the season, will surely take advantage if the two Mercedes drivers slip up.
The Australian hopes for a better outing on Sunday, but for that, he needs to get off to a great start, which can help him. If Rosberg and Hamilton gets off to a quick start, Ricciardo will have a tough time to overtake them as the race progresses ahead.
"Mercedes had a pretty good buffer over everyone and in the long run pace we looked to be closer than that, so that was giving us a bit of optimism coming into Sunday. Obviously today we've got a bit closer on one-lap pace than we were yesterday, so let's see. Hopefully it translates into something tomorrow," Ricciardo said.
"Even to put a little bit of pressure on them at some point in the race would be nice. But yeah, we'll see. Obviously tomorrow, you never know what can happen, and racetracks change day to day with the temperature and whatever but yeah, obviously we're looking pretty good. Obviously a lock-out with the second row and hopefully we can do something with it."
However, one cannot ignore Ferrari and their drivers, Kimi Raikkonen and Sebastian Vettel, who will start in the fifth and sixth position.
| | |
| --- | --- |
| Country | TV Broadcaster |
| India | Star Sports 4, Star Sports 4HD |
| US | NBC |
| Canada | TSN |
| United Kingdom | BBC, Sky Sports |
| Middle East and North Africa | Bein Sports Arabia |
| Australia | Network Ten |
| Germany, Italy | Sky Sport |
| France | Canal+ |
| Asia | Fox Sports |