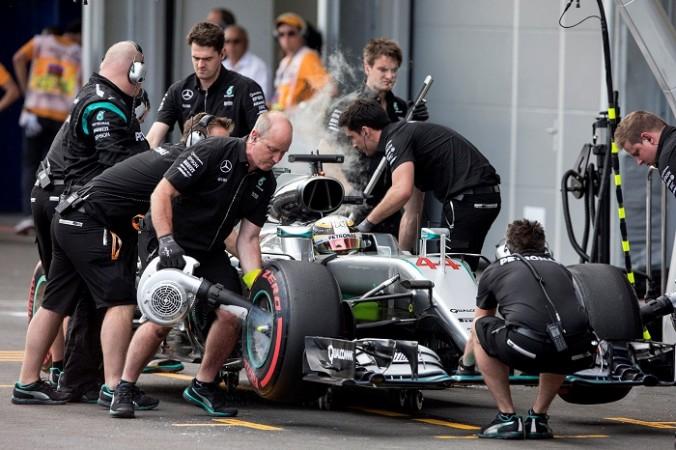 The Formula One 2016 season has been a bit dramatic for Mercedes, with some accidents and engine problems during the race, primarily for Lewis Hamilton, giving them headaches. But, that has not stopped Mercedes from being the best team of the season, with Nico Rosberg crossing the chequered flag first, five times, while the defending champion Hamilton has two victories so far.
Mercedes have accumulated 258 points, and they will be keen to gather some more in the Austrian Grand Prix, which is scheduled for Sunday. Ferrari and Red Bull, with 177 and 140 points respectively, have been their biggest rivals during the season. These two contenders will be keen to close the gap on the leaders in Austria.
All the teams will be able to get the feel of the Red Bull Ring track as they are going to be involved in practice sessions on Friday and Saturday. Rosberg is looking for a hat-trick of wins in the country, after emerging victorious in 2014 and 2015.
However, for Austrian Grand Prix 2016, a new tarmac has been laid, which might make matters a bit tricky.
"I think that this will have a quite big impact, and of course we have adapted our set-up accordingly. We have sent someone to measure the asphalt to try to understand what the impact will be on our tyres. This is a crucial aspect in regards to the whole set-up of the car, where we are putting in a lot of effort," F1's official website quoted Rosberg as saying.
This race in Austria will initiate the busy month of July, which will witness as many as four races across Europe, the results of which could have a huge impact on the team and driver's standings as well. Rosberg's approach is quite simple -- take it one race at a time.
"My approach is to deal with this race by race, so I am looking only at what is up next. We will have a great race here in Austria and the car is looking very good, and on top of that we have smaller developments continuously coming," Rosberg said.
Rosberg, after a splendid race in Baku during the European Grand Prix, will once again be the man to beat. Hamilton, Red Bull's Daniel Ricciardo and Ferrari's Sebastian Vettel are expected to push the German. They all have it in them to win the race, but Rosberg has driven fantastically since the first race of the season, making minimal mistakes on the track, hence giving very few chances to the other drivers.
Force India, whose drivers – Sergio Perez and Nico Hulkenberg – have been impressive, will be pleased if they can manage a podium finish.
Where to Watch Live (Austrian Grand Prix practice session complete schedule)
First Practice Session (Friday): 10 a.m local time, 1:30 p.m. IST, 9 a.m. BST
Second Practice Session (Friday): 2 p.m. local time, 5:30 p.m. IST, 1 p.m. BST
Final Practice Session (Saturday): 11 p.m local time, 2:30 p.m. IST, 10 a.m. BST
| | |
| --- | --- |
| Country | TV Broadcaster |
| India | Star Sports 4, Star Sports 4HD |
| US | NBC |
| Canada | TSN |
| United Kingdom | BBC, Sky Sports |
| Middle East and North Africa | Bein Sports Arabia |
| Australia | Network Ten |
| Germany, Italy | Sky Sport |
| France | Canal+ |
| Asia | Fox Sports |