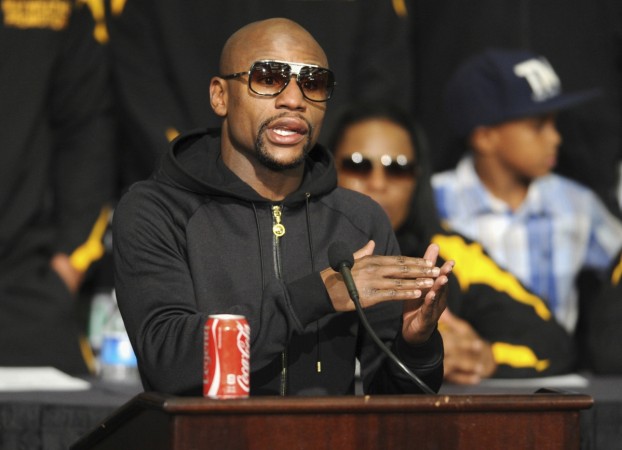 Manny Pacquiao and Floyd Mayweather's press conference would be the only time when the American and the Filipino would be involved in a face off before the fight. The bout between the two is one of the most keenly awaited match-ups in the sport of boxing.
The news conference is scheduled to start at 4:30 pm ET, at Nokia Theatre in Los Angeles. The bout has been scheduled at MGM Grand in Las Vegas, where various number of huge fights have taken place, but this bout has dwarfed all previous fights.
Unlike other bouts, this fight would only witness this face-off once, as the bout does not need any marketing as other fights. The 2 May bout has already marketed itself with people all around the world eager to watch the fight, which has been billed as the richest sporting event.
But one also has to agree that it is better that there are no multi city press conferences as well, for the boxers would be able to prepare much better for the bout on 2 May at MGM Grand and focus on training.
Prior to big sporting events, such kind of press conference always takes place, but this one at Nokia Theatre is not even open to the public.
If the public would have been allowed entry, it could have led to chaos, as people in the US are very excited about the fight.
One does not know as to how the press conference would unfurl, for a lot has already been said by both the camps in regards to the bout. It was only recently, where Pacquaio stated that Mayweather's previous fights lulled him to sleep.
Would Mayweather react to it during the press conference?
But it would be interesting to see their respective trainers, Freddie Roach and Roger Mayweather during the conference, as Roach has been vocal like no other about the bout.
The news conference would formally announce their welterweight world championship unification fight. Mayweather's camp as well as Pacquiao's were involved in negotiations to make the fight happen, but it was only agreed upon last month.
The agreement then excited the entire world, as the fight was first expected to take place some years ago when they were in their prime.
But irrespective of the timing of the fight, there is a whole lot of pride at stake for both the boxers, as they have been two dominant boxers of the modern era.
Where to Watch Live
Viewers in the US can catch the Live press conference on ESPN's "SportsCenter" at 4:30 p.m. ET (2 am IST, 8:30 pm GMT) with live streaming option on ESPN3 as well.
While, viewers across the world, including India and Philippines would be able to stream it Live on Showtime Sports YouTube Channel.