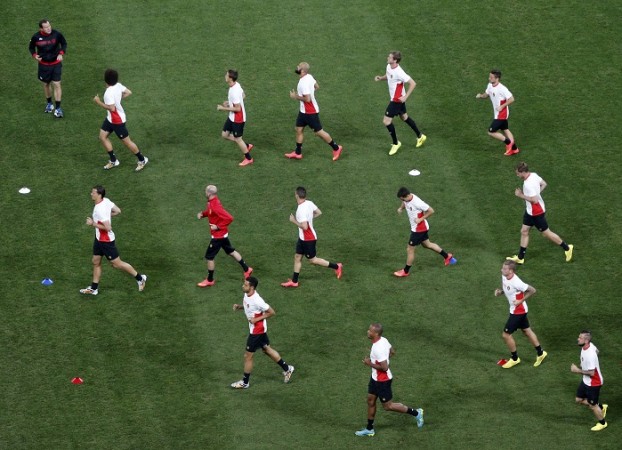 South Korea will look for a minor miracle, while Belgium will be confident of maintaining their 100 percent record when the two teams clash in their final Group H clash of the FIFA World Cup 2014 in Sao Paulo on Thursday.
Where to Watch Live
Get the report HERE

The match is set for a 5 pm local time (1.30 am IST, 9 pm BST, 4 pm ET) start with live coverage on Sony Pix in India. The game can also be watched via live streaming online in India HERE. Australia viewers can go HERE to watch the game live online, while South Africa viewers can watch the match HERE. US viewers can watch the game on ESPN while the option to live stream is HERE. Watch the match in the UK on ITV and BBC with the live streaming option HERE or HERE.
Belgium have already qualified for the knockout rounds after two consecutive wins, both of them hard fought, over Algeria and Russia. A point will be enough for one of the outside favourites to qualify from Group H as winners, and with it quite possibly avoid playing Germany in the round of 16.
Plenty was expected from Belgium heading into this tournament, and while they have delivered in terms of results, the football hasn't been as eye-catching or jaw dropping as one might have expected, especially considering the wealth of talent at coach Marc Wimots' disposal.
However, Wilmots, after seeing his Belgium side eke out a last-gasp 1-0 win over Russia in their last game, insisted the beautiful game can take a backseat as long as results are produced. ""To advance in a tournament, you don't always need to be pretty," he said. "I believe that you need to be efficient.
"What counts is that Belgium got a good win and qualified for the second round. Everything else has absolutely no importance."
Wilmots certainly seems to have the Midas touch when it comes to making changes with all three of Belgium's goals this tournament coming from substitutes. Some of those substitutes will get a chance to make an impression against South Korea, with the coach contemplating making a few changes to his side.
"I have a very good core of players and I had a number of players who wanted to show what they can do, I could see it when they trained," Wilmots added. "But there is a lot of competition. Now I have the opportunity to include fresh players, players who have not played for two or three weeks.
"Those who are coming to the pitch have a lot to prove, they can showcase what they can do and there will be a lot of competition on the pitch."
A couple of those changes will be forced, though, with skipper Vincent Kompany and fellow defender Thomas Vermaelen ruled out of the match against South Korea with groin and knee injuries respectively. "Everything had gone smoothly over the last month but we have two minor injuries," Wilmots revealed. "They are not very serious but we want to keep them fresh and they won't play against South Korea."
Wilmots will be a little concerned over the problem with his captain, with Kompany having struggled with a groin injury before. "It is about the groin injury, he stopped training after 35 minutes and I think he has over exercised a bit," Wilmots said. "It is early days yet.
"I don't think it is serious but we will wait until tomorrow. We will take our time, we have four or five days and we will follow our program. We have two doctors who will take a look at it and we are going to take our time and analyse this."
At the other end, South Korea are in a desperate situation. Not only do they need a win, but they also need a big win to stand any chance of staying in this World Cup. Korea are currently two points behind second-placed Algeria, who take on Russia in Curitiba simultaneously, with the Eastern European side also needing a victory to stay alive.
The Asian side will still be smarting from the 4-2 thumping handed out by Algeria, and coach Hong Myung-bo will hope to see his side bounce back with a win over Belgium. "We have to reduce the number of goals we concede and score as many as we can," Hong said. "We have to score a lot of goals and we have to win in order to survive that is the strategy we have to think of.
"I think they [Belgium] will be more at ease, less tension but I don't think that means they will be less skilful. They are very good and it is up to us to match up to them."
Expected lineups: South Korea: Jung; Lee Y, Hong, Kim, Yun; Han, Lee CY; Ki, Son, Koo; Park.
Belgium: Courtois; Van Den Borre, Van Buyten, Lombaerts, Vertonghen; Dembele, Defour; Mirallas, De Bruyne, Hazard; Lukaku.
Prediction: 2-0 to Belgium