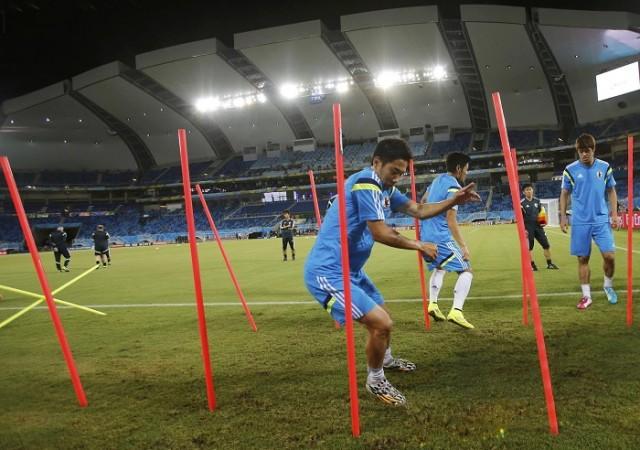 Japan saw a win snatched from their grasp via a two-goal blitz in the second half from Ivory Coast, while Greece were thoroughly outclassed by Colombia in their first Group C match at the FIFA World Cup 2014. Come Thursday, both teams will look to bounce back from disappointing defeats when they face off in Natal.
Where to Watch Live:
Get the report HERE

The Group C match is scheduled for a 7 pm local time (3.30 am IST, 11 pm BST, 6 pm ET) start with live coverage on Sony Six HD and Sony Six in India. The match can also be watched via live streaming online in India HERE. Catch the action in Greece HERE, while UK viewers can watch the match on ITV and BBC with the live streaming option HERE or HERE. US viewers can watch the game on ESPN while the optioin to live stream is HERE. Australia viewers can go HERE to watch the game online, while South Africa viewers can watch the match HERE.
Greece can have absolutely no complaints over their defeat to Colombia, with the Euro 2004 champs just failing to show up on the day, allowing the South Americans to walk all over them. While the Elephants did not trample over Japan in their first encounter, the Asian side still did not show enough to convince anyone that they can make it to the last 16.
So both sides will have plenty to prove, and with three points paramount, it should make for good viewing.
Greece have not had the greatest preparation heading into this crucial game with two of their players Yannis Maniatis and Giorgos Tzavellas having an altercation during training. Players and coach Fernando Santos tried to play down the incident, saying the problem had been "blown completely out of proportion."
"As far as I'm concerned there is no issue or problem," defender Sokratis Papastathopoulos said on Wednesday. "Whatever has happened it won't affect tomorrow's game. What happened was minor. It was trivial. Such instances are sometimes good for the press but that's all."
Coach Santos would not be drawn on talking about the issue, instead choosing to concentrate on the big job at hand – beating Japan. "The issue is we want to make history tomorrow," the Portuguese said. "As a team we must focus on our game and our opponent.
"We want to begin the match wanting to win. We will have two teams with the same goal. Who will or will not start are minor details compared to what happens on the pitch."
Japan showed their capabilities against Ivory Coast in the first half, before being physically overwhelmed by their opponents in the second 45, and playmaker Keisuke Honda believes if his side can have the majority of possession, then they should be able to come out of the match with three points.
"Possession, that is our strength," Honda said. "When we have the ball we just need to keep the ball and not give it away easily. When we do lose the ball we should press immediately. That is our philosophy."
Both managers could make a few changes to their sides for this encounter, although Santos insisted personnel was not the problem against Colombia.
"Against Colombia there was a lack of concentration, that was the problem," he said. "If we keep our level of focus, of concentration, of what the Greeks are used to seeing, there won't be any problems."
Expected lineups: Japan: Kawashima; Uchida, Morishige, Yoshida, Nagatomo; Yamaguchi, Hasebe; Okazaki, Honda, Kagawa; Osako.
Greece: Karnezis; Torosidis, Manolas, Papastathopoulos, Cholevas; Katsouranis, Maniatis; Salpingidis, Kone, Samaras; Mitroglou.
Prediction: 1-0 to Japan