Germany vs Argentina, Lionel Messi vs the well-oiled machine, two teams with an array of stars worthy of lifting the greatest prize in football. It now all comes down to those 90 minutes (or 120, or penalty shootout) on the field at the hallow grounds of the Maracana in Rio De Janeiro – time for one player to etch his name in history and send his country into delirium.
Where to Watch Live
Get the report HERE

The final is set for a 4 pm local time (12.30 am IST, 8 pm BST, 3 pm ET) start, with live telecast on Sony Six and Sony Six HD in India. The match can also be watched via live streaming online in India HERE. The finale can be live streamed by viewers in Germany HERE or HERE while viewers in Brazil can live stream the action online HERE. Audience in Argentina live stream the big game HERE. Viewers in the US can catch the action on ESPN and ABC, with the option to live stream the game HERE or HERE. UK viewers can catch the action in BBC and ITV while the matches can also be live streamed HERE or HERE. Catch the game in Australia HERE, while South Africa viewers can do so HERE. Viewers in Africa can catch the action HERE, while audience in the Middle East and North Africa can live stream the match HERE.
Before the start of the tournament, looking at the two sides, many would have punted on a Germany vs Argentina final, but not many would have predicted the manner in which the two teams made it to this dream date.
While Argentina, led by the peerless Messi, were expected to trample over every team that came before them, owing to their ridiculous firepower, Germany were expected to function like a ruthless machine, while playing some outrageously eye-catching football.
Neither have quite lived up to that bill – Argentina's run to the final has been on the back of a tremendously parsimonious defence, a defence which has conceded a mere three goals in the entire World Cup so far. The attacking quartet of Messi, Angel Di Maria, Sergio Aguero and Gonzalo Higuain have not exactly set the stage in fire as a unit. Apart from Messi, the other three have blown hot and cold, with Aguero's tournament blighted by injury.
[READ Germany vs Argentina Match Predictions]
If not for this seriously strong defence, Argentina would not be standing here, anticipating their ultimate dream coming true – of lifting their first World Cup title since 1986, and that too on enemy soil.
"Our team is more conservative than four years ago, we are looking to triumph via a different path," Argentina coach Alejandro Sabella said. "The teams are different although most of the players are the same.
"We'll give our all as always, with sacrifice, humility, hard work, being down to earth, giving before receiving, protecting one another, so that Argentina can be a champion again. We will do our best. More than that we cannot do."
If the Germany that annihilated Brazil 7-1 in the semifinal turn up for the finale, then Argentina's best might not be enough. But, if Germany, who, despite winning game after game, failed to really sparkle in the games before that unbelievable semifinal come to the fore, then Argentina's chances of lifting the title looks a lot more realistic.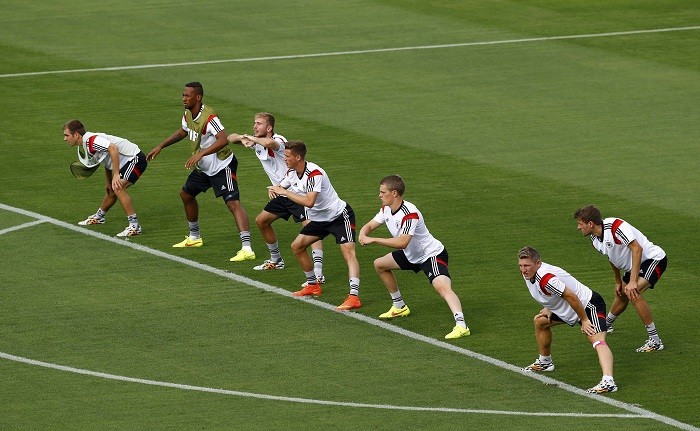 Germany, while keeping those results on the right path, were not exactly setting the World Cup alight with their football, before the semifinal against Brazil, who ironically now will be rooting for the team that embarrassed them. Yet, they always looked in control, always aware of what is required; that feeling of "if they needed to step up a notch or two, it was always just a flick of the switch away" prevailing.
There is just a really cool efficiency heat that runs through this entire Germany lineup which makes them so formidable. Every single player in the squad know their role, and they ensure they implement it impeccably.
"I'm not expecting that we'll be ahead 5-0 at halftime again like against Brazil even though that would be nice," said Thomas Muller, one of the stars of the tournament for Brazil. "It could end up being a tight match like against Algeria or France. But it doesn't matter. We know what we have to do."
Germany will be up against the best defence they have faced at this World Cup, with the added "oh my god it's the final" aspect only cranking the pressure up a few notches more. Joachim Low's men might not be anything like the last Germany team that won the World Cup, but they will look back at that final over Argentina to draw inspiration. Argentina will do the same, only by looking back a further four years when Diego Maradona inspired the South Americans past West Germany in 1986.
These are two teams with storied World Cup histories, but none have been more consistent than Germany, who have now reached the semifinal or better for the fourth straight WC. Having suffered quite a bit of recent heartbreak in the European Championships as well, Germany, and their latest Golden Generation of ridiculously gifted players will be determined to make this one count.
"We're here to win the World Cup," Germany skipper Philipp Lahm said. "The experience we've got all the way through our team is definitely an edge for us."
It might be some individual brilliance (read Messi) or some outstanding teamwork that ultimately decides the final, but most importantly the team that refuses to get overawed by this daunting occasion will be the ones standing on the podium with their hand aloft with that iconic trophy in their hands.
Team news: Germany: Defender Mats Hummels, who has scored a couple of vital goals in this World Cup, returned to training after suffering from tendonitis and should be available, despite missing the second half of the semifinal. Low does not have any other injury problems to worry about and the coach is likely to name the same starting lineup which triumphed so amazingly in Belo Horizonte five days ago.
Argentina: Angel Di Maria did some light training after missing the semifinal due to a thigh injury, but the midfielder is unlikely to start. Sergio Aguero is back to full fitness and will hope to get the nod from the beginning. Left-back Marcos Rojo suffered an ankle knock in training, but it is not expected to be serious enough to keep him out of the big match.
Key men: Germany: So many to name. However, two players have stood out for this Germany side at this World Cup, and Toni Kroos and Muller will need to be at their absolute best to ensure Germany lift their first World Cup title in 24 years.
Argentina: Cannot look beyond Messi. But, Javier Mascherano, one of the best players at this tournament so far, will have to have another outstanding game in midfield if Argentina are to contain this Germany side.
Expected lineups: Germany: Neuer; Lahm, Boateng, Hummels, Howedes; Khedira, Schweinsteiger, Kroos; Muller, Klose, Ozil.
Argentina: Romero; Zabaleta, Demichelis, Garay, Rojo; Digne, Mascherano, Perez; Messi, Higuain, Lavezzi.
Prediction: 2-1 to Germany