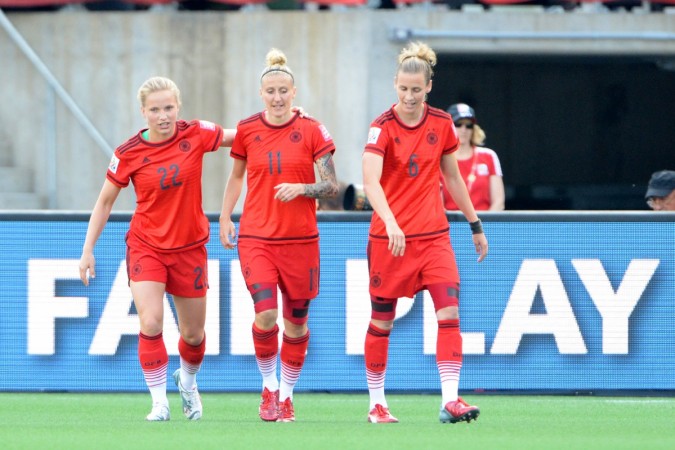 Germany, one of the favourites in the ongoing FIFA Women's World Cup, are set to face Thailand in their group B encounter at Winnipeg Stadium in Canada. Germany currently stand atop their group with a win against Ivory Coast and a draw with Norway.
Thailand, on the other hand, have defeated Ivory Coast and lost against Norway. Irrespective of their performances, Germany are favourites for the clash against the Asian side. Germany are the top ranked side in the FIFA Women's standings.
Compare this ranking to Thailand, which stands at 29, so, obviously, Germany are a stronger side. Despite such differences in the team rankings, German coach Sylvia Neid sees no reason to underestimate Thailand, who are technically skilled.
"There is no reason to underestimate the Thai team," Winnipeg Sun quoted Sylvia Neid as saying. "They are technically very skilled. They have all that it takes to be a good team. We will be very focused going into this match."
Thailand are aware of the huge task in hand pitted in a group, which includes both Germany and Norway. But, they are a team, who will not fear such big teams. Their coach, Neungrutai Srathongvian said they will take chances in the game.
"As for creating some historic event, we'll just take our chances and see," said Srathongvian. "We didn't bring fear with us in our baggage when we came from Thailand. We brought determination and pride. We are just proud to be in a match with the No. 1 team in the world."
In another encounter, hosts Canada will face the Netherlands in group A, which includes China and New Zealand as the other two teams in the group. Canada lead the group standings with four points from two matches as they defeated China and drew against New Zealand.
Hence, Canada will be eyeing top spot when they take on the Netherlands, who lost to China and defeated New Zealand.
But, scoring seems to be a major problem for the hosts as they have found the back of the net only once in the competition. They need to flourish offensively.
If Canada defeat the Netherlands, they will take top spot in the group and book their place in the next round of the competition.
Where to Watch Live
FIFA Women's World Cup match between Germany and Thailand is scheduled for 3pm local time (1:30am IST, 4pm ET, 9pm BST), while Canada and the Netherlands match is schedule for 7:30pm local time (5am IST, 7:30pm ET and 12:30am BST) (There is no live coverage in India)
The US viewers can watch the game live on Fox Network with live streaming on Fox Soccer2 Go.
The UK viewers catch the action live on British EuroSport 1.