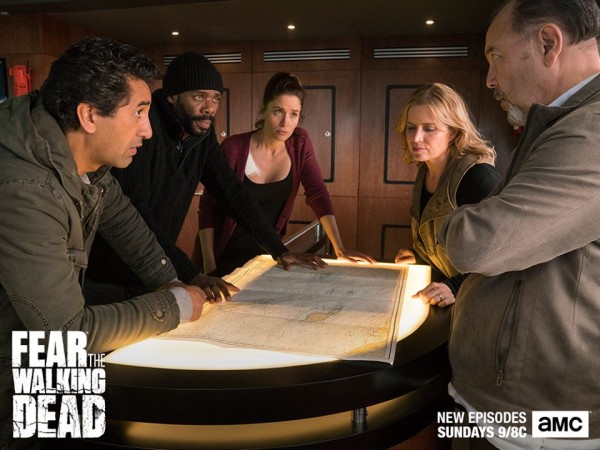 In the upcoming episode titled "Ouroboros" of AMC's horror-drama series "Fear the Walking Dead" Season 2, it seems that Victor Strand's (Colman Domingo) lies and secrets will be finally revealed to the crew of "Abigail."
CLICK HERE to watch what happens when Madison (Kim Dickens) and other survivors discover about Victor's lie and how they will deal with the situation now.
According to the synopsis of the episode by TV.com, "Madison confronts Strand about his mysterious destination. Meanwhile, Nick (Frank Dillane), Alicia (Alycia Debnam-Carey) and others inspect wreckage from a plane crash."
The sneak peek of the episode shows that Victor is communicating with the same mysterious person with whom he has been talking to in the previous episodes. However, this time, the person on the other side didn't respond to Victor's call.
In the promo, it can be seen that Madison's children, Nick and Alicia, have formed a group with Travis' (Cliff Curtis) son Chris (Lorenzo James Henrie) and Daniel (Rubén Blades) -- a Salvadorean refugee. The group can be seen inspecting the wreckage of a passenger plane.
Viewers and fans who have been following "Fear the Walking Dead" and its sequel "The Walking Dead" along with the miniseries "Fear the Walking Dead: Flight 462" know about the wrecked plane and the story revolving around it.
The promo hints that the fate of the passengers, who were on the plane, will be finally revealed in next episode of "Fear the Walking Dead."
According to Christian Today, in the previous episode titled "We All Fall Down," Victor was reluctant to bring the group to San Diego in search of a military outpost.
Secretly, he was planning to move them somewhere in Mexico. However, no one on the yacht knew about his plans and intentions. The episode also revealed that he had a satellite phone and weapons without the knowledge of the group.
Though Victor tried his best to behave as normal as possible with the other members of the group, Madison suspected that he was hiding something and became more concerned about his family's safety.