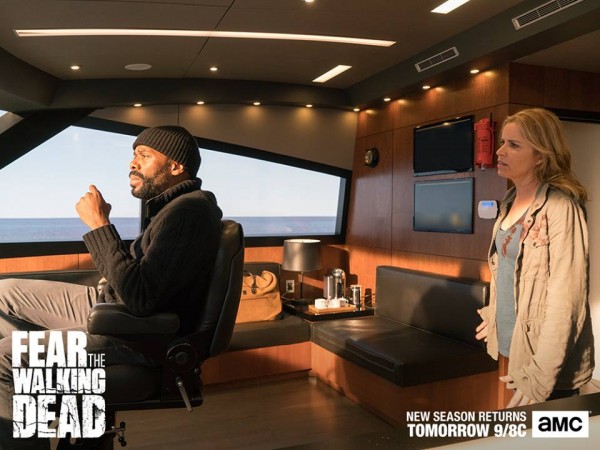 The next season of AMC's horror-drama series "Fear the Walking Dead" is back and it seems that the latest season of the series will have some good news for the fans of its sequel, "The Walking Dead."
CLICK HERE to watch the premiere episode titled "Monster" of "Fear the Walking Dead" Season 2.
Fans have been speculating for a long time whether there will be a crossover between both the shows. Though the producers have denied of any such possibility in near future, stars of "Fear the Walking Dead" have expressed interest in a crossover story depicting the origins of Negan (Jeffrey Dean Morgan) from "The Walking Dead."
As reported by Comic Book, Mercedes Mason, who portrays the character of Ofelia, said, "That would be pretty incredible especially because we're just now meeting him on that show."
Lorenzo James Henrie, who plays the role of Chris, said, "I think people would absolutely love to see that. I would be all for it."
Frank Dillane, who portrays Nick, also favoured a crossover even. However, he was not sure whether "Fear the Walking Dead" crew will end up in Alexandria or not.
"I don't think they're going to end up at Alexandria. No. I can't say where they're going to end up, but it's not there," Dillane said.
Despite the actors supporting the idea, executive producer Gale Ann Hurd recently told Deadline that the crossover won't happen at all.
"With 'Fear The Walking Dead' Season 2 we are still following the rules of the Kirkman-created universe, so we won't violate those and there is no crossover."
The synopsis of "Fear the Walking Dead" Season 2 premiere episode, as stated by TV.com, reads:
"In the second-season premiere, the families flee a burning Los Angeles on Strand's yacht, as Strand remains mysterious. Meanwhile, the group encounters danger at sea."