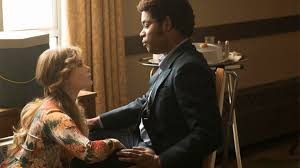 It was only a few episodes ago when Gerhardt matriarch Floyd told her sons their family had been living in peaceful times and violence should not be used against their rivals. However, the plot is going to change dramatically henceforth.
In episode 4, Floyd (Jean Smart) tells crime syndicate group Kansas City she doesn't want to forge any kind of relationship with them. "It's war," she says, ending her meeting with Joe Bulo (Brad Garrett ). Subsequently, Mike Milligan (Bokeem Woodbine) and the Kitchen brothers corner Gerhardt patriarch Otto and shoot everyone around him. The symbolism of this is not lost on us. We predict an equally violent attack by the crime family in episode 5, titled "The Gift of the Magi."
The synopsis for the upcoming episode, released by TV Guide, reads: "Floyd takes action and Charlie tries to prove himself. Also: Peggy (Kirsten Dunst) and Ed (Jesse Plemons) disagree about what to do next and Lou (Patrick Wilson) is sidelined during Ronald Reagan's campaign tour."
In the promo for episode 5, Floyd says: "I want this butcher dead. No mercy." And her grandson Charlie (Allan Dobrescu) will most probably carry out the deed. After all, he has always wanted to prove himself as an asset to Floyd. We wonder how Charlie's father Bear will react to this.
Furthermore, will Floyd try to stamp the Gerhardt family's power by perhaps killing Mike Milligan or one of the Kitchen brothers?
In any case, we predict Mike playing an important role in episode 5. In the promo, he tells Dodd's daughter Simone: "I want to know what they are going to do before they do it."
The newest episode promises to be heavy on violence, egos and a total disregard for the law. This will be climactic when Ronald Reagan visits the town on his campaign tour.
"Fargo" Season 2 Episode 5, titled, "The Gift of the Magi", airs on Monday, 9 November at 10 pm on FX. You can live-stream the episode via the FX website.
Watch the promo for the episode 5 here: