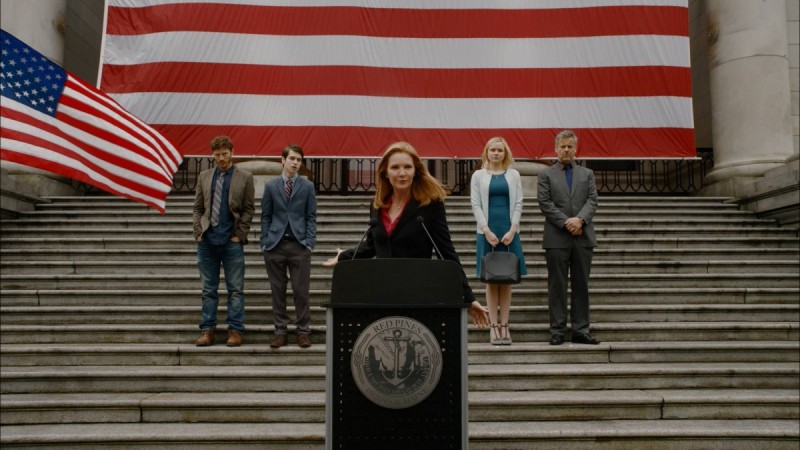 While the Warrens try to accept Ben (Liam James) as part of their family, the police is on a quest to expose his real identity. In the latest instalment of "The Family" Season 1 episode 9 titled "Betta Male" Detective Nina Meyer (Margot Bingham) has some difficult questions for Ben (Liam James), who poses as Adam, the Warrens' youngest son.
The plot in the ABC TV show seems to have taken a different turn. The characters' obsession no longer includes Doug, the pock-marked man. Instead, the storyline now focuses on the police force's interest in Ben and the reason why he's posing as one of the Warrens.
In episode 9, Meyer makes her ambition clear. She visits the Warrens to question Ben about the evening his friend and cellmate Adam got kidnapped. She begins to show him pictures taken on that fateful day and to everyone's shock, she also shows him a picture of his younger self. "Do you recognise him?" she asks. While Ben is quiet, it becomes clear to Willa (Alison Pill) and Claire (Joan Allen) that the Detective knows Ben is an imposter.
In the promo for episode 9, Willa tells Claire that Meyer can't prove anything because of the DNA test. Furthermore, Willa also possesses Adam's dental records. While this seems like a dead-end for Meyer, the fact that she has Ben's photo indicates that she perhaps has more evidence to prove who he really is.
Did she get his picture from a missing complaint filed by his foster parents? Does the police have Ben's DNA? This remains to be seen.
Meanwhile, the synopsis (via TV Guide) indicates that Hank finds out who actually kidnapped Adam. A sneak-peek video released by ABC shows that Doug is Hank's friend. He enters the house and perhaps it is at this time that Hank realises who took Adam hostage.
"The Family" Season 1 episode 9 airs 9 p.m. EST on Sunday, April 24, on ABC. You can live-stream the episode via ABC GO.