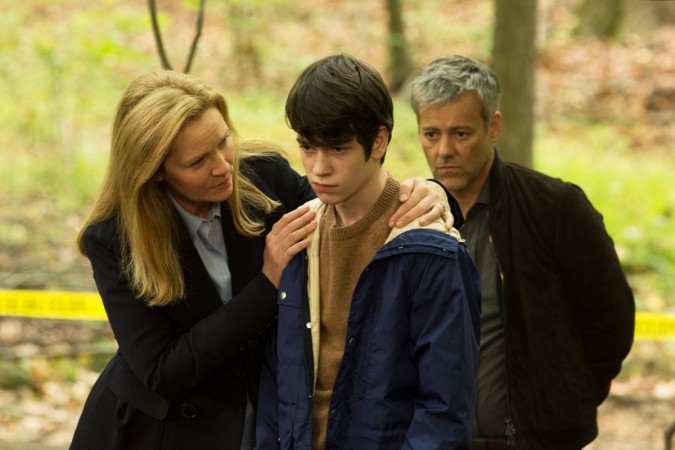 ABC's latest TV show, "The Family," is all about the pursuit of truth. The Warrens want to know who kidnapped their youngest son, Adam (Liam James), 10 years ago, while Bridey (Floriana Lima), the overzealous journalist wants to know if he is indeed the same kid who went missing. In Season 1 episode 6 titled "Nowhere Man," she will get some answers about Adam's identity, but is that the truth?
[Spoiler Alert]
Fans of the show will remember that Bridey nicked an ear bud from Adam's room in order to conduct a paternity test. In episode 5, she informed her boss that the results are back but the big reveal will be made in the latest instalment, episode 6.
Bridey, who seems to have ditched Danny (Zach Gilford) for his interesting and shrewd sister Willa (Alison Pill), meets her at a neutral location. When Willa learns that Adam is not John Warren's (Rupert Graves) son, she remains nonchalant. The mayor's daughter reveals that her mother Claire (Joan Allen) had an affair, and that Adam is her step-sibling.
But what comes next is both disturbing and intimidating. Willa attacks Bridey's integrity when she says, "Print this trash and you shatter a kid who spent 10 years missing a man who he thought was his father."
Although Willa's statement makes Bridey uneasy, it remains to be seen if she is being emotionally manipulated. After all, Willa has always been elusive about the truth. She hid her father's affair from the rest of the family, and even planted evidence in her neighbour's house.
Can Willa's version be fully trusted? If she is indeed telling the truth, then who is Adam's dad?
A popular theory remains that the Warrens' neighbour Hank (Andrew McCarthy) fathered Adam. The two look very similar. Hank even possesses the kid's gloves and the two share a kind, paternal relationship. But will the show ever reveal the truth about Adam's dad? It remains to be seen if the results of the paternity test make a significant impact on the plot. Because, truth, as Willa put it to Bridey, is not important.
"The Family" Season 1 episode 6 airs 9 p.m. EST Sunday, April 3, on ABC. You can live-stream the episode via ABC GO.