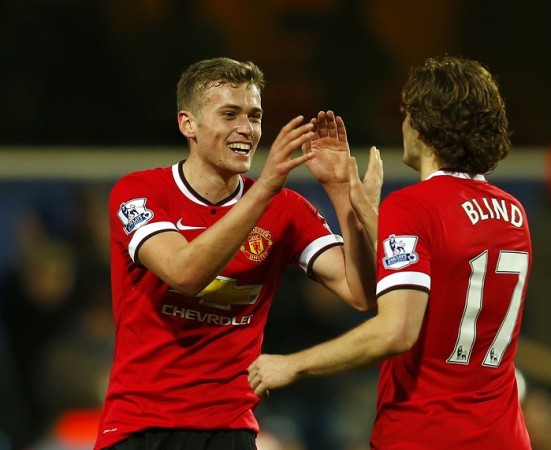 A banana-skin test awaits for Manchester United when they travel to Cambridge United in their FA Cup fourth round encounter on Friday.
Manchester United were made to work hard by Yoevil Town in the previous round, with only a wonderful goal from Ander Herrera and Angel Di Maria giving them a victory and keeping them in contention for the FA Cup.
Louis Van Gaal's men were dumped out by a lower league club in the Capital One Cup this season, and the last thing Manchester United will want to do is bow out to a club in League Two, the fourth tier of English football.
"It's always tough to play against weaker teams because in the players' minds, it is a weaker team," said van Gaal. "For example, on Wednesday, PSV Eindhoven, who are no.1 in the league in the Netherlands, lost against no.3 of the second division.
"It shall happen also in the FA Cup. There are always surprises and I hope we are not the surprise.
"When you see Cambridge and when you analyse Cambridge, they play very direct with long balls. They have five or six players who are taller than 1 metre 90 so for us it will be difficult to defend against.
"That is why you have to prepare yourself very good. It is not so easy to beat Cambridge United."
For Cambridge United, such matches are nothing-to-lose encounters, one where they can go all out, showcase their talents and style of play and catch a big team off guard.
Having done so well to get to the football league via the playoffs, and having also won the FA Trophy, Cambridge manager Richard Money is confident his team can withstand the Manchester United challenge.
"We won two trophies last year," Money told PA Sport. "We've got a group of players that know what it means to win. We've been lucky that two trips to Wembley last year has given us some kind of thought process as to what might happen and what needs to be done.
"I've got absolutely no doubts that they will play well Friday night. If I look back to last year's semifinal here against Halifax and the final -- those two games were far more important than Friday's, in terms of the future of the club and in terms of pressure and nerves.
"We played well on both days and I've no doubts the players will perform on Friday. Whether that's good enough is another thing. If they can be the best they can be, that's all we can ask."
Manchester United manager Van Gaal will welcome back Robin Van Persie and Luke Shaw back to the team, but Chris Smalling, Jonny Evans and Ashley Young are ruled out for the FA Cup fourth round match at the R Costings Abbey Stadium.
Where to Watch Live
The FA Cup match is set for an 8 pm GMT (1.30 am IST, 2.45 pm ET) start with live coverage in India on Star Sports 4 and Star Sports HD2. The match can also be watched via live streaming online on Starsports.com. BBC One will show the FA Cup third round replay live in the UK, while viewers can also watch the match via live streaming online on BBC IPlayer.
Catch all the FA Cup action in the US live on Fox Sports 1 or via a live stream on FoxSoccer2Go.