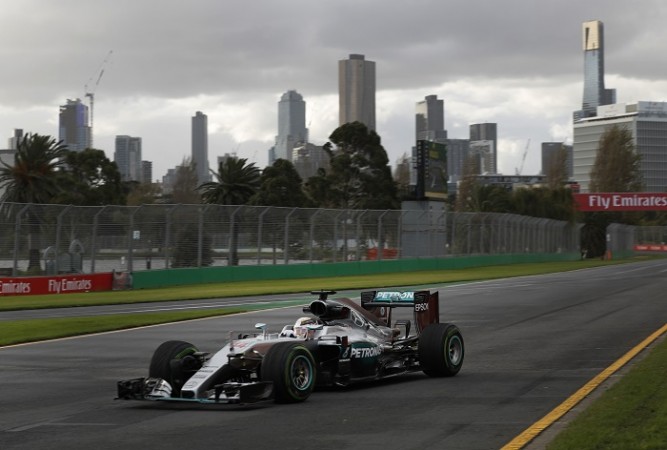 The Australian Grand Prix's first two practice sessions Friday witnessed weather playing spoilsport, but defending champion Lewis Hamilton was not perturbed with the rain. Ahead of the Australian Grand Prix qualifying session, Saturday, Hamilton proved to be the fastest driver in the practice.
Besides Mercedes' Hamilton, other drivers such as Force India's Nico Hulkenberg and Red Bull's Daniel Ricciardo looked good during practice. Hamilton is one of the favourites to take pole position in the qualifying session. However, Hamilton's team mate Nico Rosberg was involved in a crash during the second practice session.
Despite the crash, Rosberg will pose a huge challenge, and like other drivers, he will be keen to come up with an impressive Australian Grand Prix qualifying session.
There is great interest surrounding the Australian Grand Prix qualifying session, which is a new format. There will be three qualifying phases. The first, second and third phase will comprise 16, 15 and 14 minutes respectively, and drivers will be eliminated accordingly in each of the phases.
Twenty-two drivers will participate in Q1, and 15 fastest drivers will move onto Q2, which will only finish after the slowest eight drivers are eliminated from the field of 15 drivers. Q3, which will comprise eight drivers, who will all battle it out for the pole position with the slowest driver getting eliminated every 90 seconds, and it will be a virtual knockout for the pole position between the fastest two drivers in the qualifying.
The new format, which has been introduced this season, may be interesting but even the drivers are not sure as to how will it pan out. Ferrari's Sebastian Vettel, whose fastest lap read 1m 40.761s in practice, believes the new qualifying procedure might lead to confusion, initially.
"The fact that nobody really knows how it (qualifying) will be in reality is not a very positive situation as it brings a bit of confusion. But now we all have to deal with it and late Saturday afternoon we will know if it works. What I really do hope is that at the end of qualifying it's still the fastest driver who is on pole position. That is in the end all that matters – in the interests of the sport," F1 official website quoted Vettel as saying.
Though the qualifying session is scheduled for Saturday evening (5 p.m. local time), drivers will be involved in the third practice session a few hours ahead of the highly-anticipated qualifying process.
Where to watch live
Australian Grand Prix Qualifying session timing: 5 p.m. local time, 11:30 a.m. IST, 6 a.m. GMT
| | |
| --- | --- |
| Country | TV Broadcaster |
| India | Star Sports 4, Star Sports HD 4 |
| US | NBC Sports |
| Canada | TSN 2 |
| United Kingdom | Sky Sports F1 |
| Middle East and North Africa | Bein Sports Arabia |
| Germany, Italy | Sky Sport |
| France | Canal+ |
| Asia | Fox Sports |