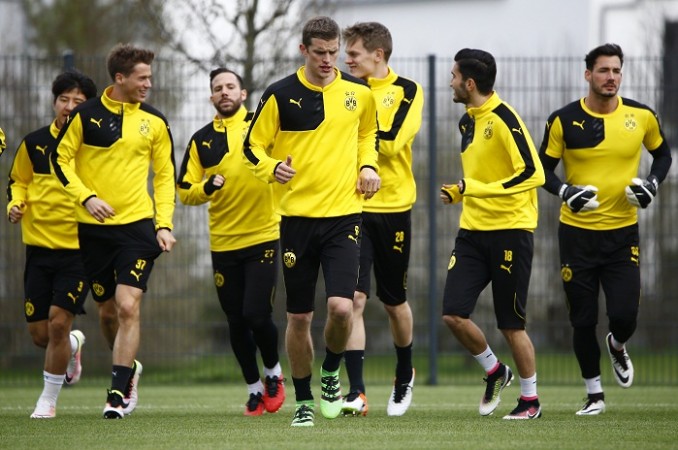 All eyes will be on manager Jurgen Klopp as his Liverpool team are set to take on Borussia Dortmund for a massive Europa League quarterfinal first leg encounter at Signal Iduna Park arena Thursday. Klopp has been bagging headlines ever since the two teams were drawn to play alongside one another. The match has also been treated as Klopp's homecoming, having managed Borussia Dortmund before joining Liverpool.
Liverpool and Borussia Dortumnd are always said to have some of the best football fans, which is set to make the atmosphere brilliant across both the legs. Though both teams' fans will be singing their anthem, "You'll Never Walk Alone," with full gusto, the players also need to live up to the hype that has been created so far.
Both teams have some incredible players in their camp to make the match more entertaining. Liverpool have the likes of Daniel Sturridge, Philippe Coutinho and Adam Lallana, while Dortmund possess Marco Reus, Ilkay Gundogen and Matt Hummels.
What makes the contest even more interesting is their entertaining brand of football, which will be on show Thursday.
Though both teams look strong, Dortmund are favourites to progress further in the competition, defeating Liverpool. The German outfit are in fact No. 1 contenders to win the Europa League title. But, Dortmund manager Thomas Tuchel is aware that Liverpool have looked good under Klopp, and consider the Reds to be a threat.
"Liverpool have been getting stronger over the last few weeks, in large part due to Jürgen's input. They're very difficult to play against. They defend very high and have outstanding individual quality, particularly going forward. We're really excited about the game, but we know we need another top performance," UEFA official website quoted Tuchel as saying.
With players such as Pierre Aubameyang, Henrikh Mkhitaryan and Reus in their attacking line, the trio can trouble the Liverpool defenders, who have looked shaky in the EPL sometimes. Dortmund, who have players of such quality, have been brilliant in the Bundesliga. They are just five points behind table-toppers Bayern Munich, which explains their sensational form during the season.
Klopp also agrees with Dortmund as favourites, but the German manager believes that they know how Dortmund will come into the game, which could help Liverpool.
"We've said Borussia Dortmund are favourites in this competition and I don't think there's anybody that really disagrees with that. If there is one little, little, little advantage for us, then it is that everybody knows the way Borussia Dortmund [have been playing for] a few years," Klopp said.
"Dortmund have a cool way of playing, courageous going forward and aggressive, so it won't be easy but we're well prepared. If it was easy [to beat them], one or two teams might have discovered this earlier on."
Though a number of teams may also have known Dortmund's style, they have failed to defeat them. Tottenham Hotspur suffered a similar fate in their last Europa League clash against Dortmund, who win the game 5-1 across two legs. Liverpool have to be particularly sharp in getting past the Germans, who have pacy players to make life miserable for the Reds.
Agreed, Liverpool come into the match as second favourites. But make no mistake, Liverpool are a class team, and have it in them to shine in Germany, and come back home with a positive result. Sturridge and Coutinho will hold the key for Liverpool, but the defensive pairing of Mamadou Sakho and Dejan Lovren needs to have a great game as well.
Liverpool should be pleased even if they manage to finish the game with a draw, and win it in Anfield during the second leg. But Dortmund will want to kill the game in their home turf Thursday itself.
Where to watch live
Borussia Dortmund vs Liverpool Europa League match has been scheduled for 9:05 p.m. local time (12:35 a.m. IST, 7:05 p.m. GMT, 3:05 p.m. ET). Viewers in India can watch the Borussia Dortmund vs Liverpool Europa League on Ten Action and Ten HD with live streaming option on Ten Sports Live.
Viewers in the UK can watch the Borussia Dortmund vs Liverpool Europa League match live on BT Sport Europe with live streaming option on Watch BT Sport. Viewers in Germany can watch the game live on Sky Sports 1/HD and Sky Sports 2/HD.
US viewers have the option of catching the Borussia Dortmund vs Liverpool Europa League game live on Fox Sports 1; the match can also be live streamed online on FoxSoccer2Go.
Viewers in Africa can watch the Borussia Dortmund vs Liverpool Europa League in Supersport 3 Africa.