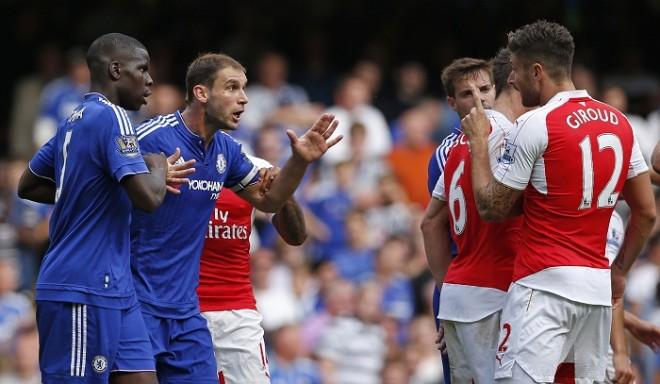 Arsenal, who currently lie third in the EPL standings, have a chance to tie on points with table toppers Leicester City if they defeat Chelsea at the Emirates Stadium on Sunday.
Arsenal might have failed to register a victory against Liverpool and Stoke City in their last two EPL games, which resulted in a draw, but their overall performance in the league has been top class, and they are considered favourites to clinch the title.
Click here to watch Arsenal vs Chelsea match highlights
With players such as Alexis Sanchez, Mesut Ozil and Olivier Giroud in their ranks, they have the ammunitions to win the title. On their day, they are one of the best teams to watch in the EPL. The team will bank upon Giroud and his goal-scoring ability, which has been of great quality, as he has scored 12 goals in the EPL so far this season.
Despite Chelsea suffering a drastic dip in form from last year, when they clinched the title, Arsenal must be aware they have not defeated the Blues since October 2011. Arsenal players will be keen to improve upon the record.
The Gunners' loss to Chelsea at Stamford Bridge last September might be well remembered for two Arsenal players — Gabriel and Santi Cazrola — being sent off, apart from Diego Costa crossing the line with his ruthless behaviour against Laurent Koscielny.
"We are convinced our records against big opponents is linked to discipline. On the day we suffered because we were a bit unlucky due to the decisions of the referee," Arsenal official website quoted manager Arsene Wenger as saying. "Overall, over the longer distance, I believe we have a very strong record on the discipline front in the Premier League. We want to maintain it."
Wenger knows the threat Chelsea pose as they have a strong squad.
"It is another one where we can show we have moved forward," said Wenger. "It is another game where people look at us and see how we behave because, even if Chelsea are not in the best position, you look at their squad."
Chelsea, who might be struggling in the EPL with 6 wins from 22 games, have been decent of late, unbeaten in their last seven games in all competitions. However, Arsenal will prove to be their biggest test in the EPL of late, though they played Everton in their last fixture, which ended in a draw.
The Blues' manager Guus Hiddink was pleased with Cesc Fabregas' performance against Everton, and the former Arsenal player must once again deliver at the Emirates, which was his home for eight years.
"Fabregas has a very controlled, respectful attitude, and now he has also taken the second step in performing as he has been recently, with his assists and, although deflected, his goal in the last match against Everton," Chelsea official website quoted Hiddink as saying.
Apart from Fabregas, Chelsea also need their striker Costa and midfielder Eden Hazard to fire on all cylinders. Though Costa suferred a bruised shin against Everton, the Spanish striker is expected to lead the Blues' attack.
The London derby, which will be played in a high tempo, is expected to witness some high-flying tackles with players such as Gabriel, Koscielny and Costa in the fray. However, Hiddink believes whatever happens on the pitch, there is great respect between the teams.
"When the game starts, there must be a lot of rivalry, which is normal in sports, but outside that I think when people are decent you have to respect them and you have to respect their work as well. But when the whistle blows to start the game, there's a lot of rivalry, which is as it should be," said Hiddink.
Where to watch EPL live
Arsenal vs Chelsea EPL live game is scheduled for a 4 pm GMT (9:30 pm IST, 11 am ET) start. India viewers can watch the Arsenal vs Chelsea EPL live game on Star Sports 4 and HD4. The match can also be watched via live streaming online on Hotstar and Starsports.com.
Viewers in the UK can watch the Arsenal vs Chelsea EPL live game on Sky Sports 1 with live streaming on Sky Go.
NBC Sports Network will broadcast the Arsenal vs Chelsea EPL live game in the US; live streaming on NBC Sports Live Extra.
Australia viewers can watch the EPL game live on Fox Sports 4, while the online live streaming options are on Fox Sports On Demand and Foxtel Play.