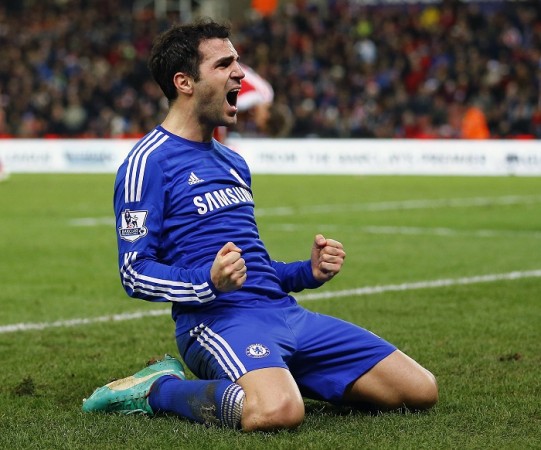 Chelsea will look to move to within one win of the English Premier League title with three points at the Emirates, while Arsenal will want to keep their own slim championship hopes alive or, more realistically, firm their grip on second place.
The fact that Arsene Wenger has never beaten Jose Mourinho is pretty well-known by now, with Chelsea again getting the better of Arsenal at Stamford Bridge earlier this season to extend that hold for the Portuguese over his Frenchman to 12 matches.
"For me he is not my rival, I don't feel that," said Mourinho. "I just feel he's the manager of a big club in the same city where I work and live. We're big clubs with the same objectives and because of that there will always come a little bit of rivalry but for me it's no different to when I was at Inter with the Milan managers or in Real with the Atletico managers.
"I'm not proud [of the record against Wenger], for me an achievement is to win [on Sunday], not the other 12 matches that we played before against Arsenal, I don't look to this.
"Every match is a match, no relation to the previous or the next one, what they care about is the way we work all week and the way we prepare ourselves for the game."
Wenger also concurred. "It is not a confrontation [between managers], it is a confrontation of two teams," added the Frenchman. "Football is down to the fact that the performance on the day will decide the game and the result, so let's focus on that.
"We have not always lost, first of all, in 12 attempts. We have come close to beating them a few times and they have always had very strong teams. We are on a good run and we have an opportunity to beat them at home, and we want to take it."
While Arsenal were nowhere near as bad as they were against the Blues last season, the 2-0 win did nothing to prove Wenger had finally found a way to stop Mourinho, even if the North London side go into this match on a terrific run, having won ten straight games.
While the Wenger-Mourinho contest is one to savour – after all, will the Arsenal manager get provoked by the Chelsea boss again and go for another pushing contest? – there is also the small matter of the return of former Arsenal hero Cesc Fabregas to the Emirates.
Who would have thought five years ago that Fabregas would eventually end up playing for Arsenal's London rivals Chelsea? But, such are the twists and turns that professional football takes, and Fabregas will look to land the telling blow and move his new side ever closer to the title.
The Spaniard, a former captain, might not be given that big a welcome from the Gooners, though, even if Wenger has asked the fans to respect their former player.
What cannot be cast aside, however, is the fact that Chelsea are closing in on the title. They are ten points ahead of Arsenal, and a win on Sunday, coupled by a victory over Leicester City in midweek, will make them champions. Arsenal will, of course, try and delay the inevitable as much as possible, while three points against the Blues will give them further confidence of not just holding onto that second spot – a spot that has been taken over by Manchester City at the moment, albeit having played two games more -- but moving ahead with a sustained title challenge next season.
Arsenal have done pretty well against this big teams this season, and that feeling of "now only Chelsea remains to be conquered" will drive them towards picking up a positive result; with Mourinho the master of the big games, however, don't be surprised if Chelsea come out with that 1-0 win.
Where to Watch Live
Get the story on Mourinho and his unnecessary dig at Arsenal HERE
Get the Match Report HERE
Arsenal vs Chelsea is set for a 4 pm BST (8.30 pm IST, 11 am ET) start with live coverage in India on Star Sports 4 and Star Sports HD4. Watch the big EPL match live in India on Starsports online.
Audience in the UK can watch the match live on Sky Sports 1, while the live stream option is on Watch Sky Sports and Sky Go. Viewers in the US can catch the game live on NBC Sports, while the EPL action can also be live streamed on NBC Live Extra.
Fox Sports is the place to go for viewers in Australia, with the live streaming option on Foxtel and Fox Sports On Demand. Viewers in Canada can watch Arsenal vs Chelsea live on TSN, while the live stream option is on TSN TV.