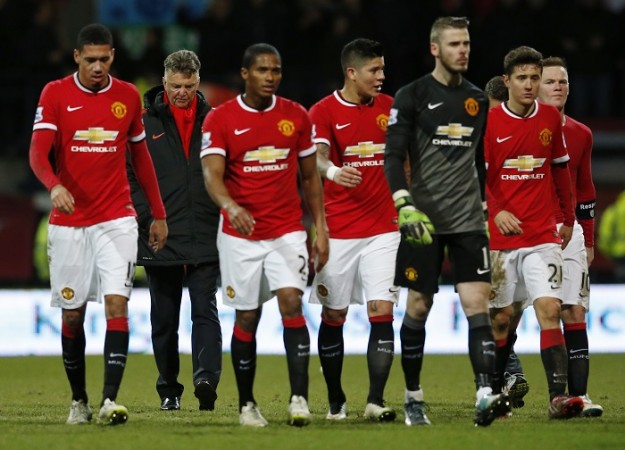 Manchester United might not be playing the smoothest of football under Louis Van Gaal, but they certainly have been getting the results, and that positive result will precisely be the focus again when they travel to Wales to take on Swansea City in the English Premier League.
Van Gaal has copped a bit of criticism for the manner in which his team have played, but at the end of the day, all that matters is the three points, and Manchester United have been getting plenty of them in the last few matches.
"Yes, of course, because we can play much better," said Van Gaal to MUTV. "I am looking for the balance and I can see a team who are also looking for the balance.
"It [the balance] is never good enough -- not for me, not for the players, not for the fans. We have to improve and we are in the process [of doing that].
"In spite of that, we have won a lot of games. In 19 games, there has only been one loss and that's not bad when you're in the process, I believe."
Manchester United currently sit in third on 47 points, just five behind Manchester City, after their rather unimpressive, but effective, win over Burnley ten days ago, and Van Gaal will hope his big players come to the fore again against Swansea, who are looking for that extra push to fight for the European places.
Having picked up quite a few draws in away matches this season, Van Gaal is now keen to convert them more often to three points, starting with a win at the Liberty Stadium.
"The spirit in the team is fantastic and they want to do everything for the team -- that is also important," he added. "If a coach sees the spirit is not so good, then you have many questions as to why. But I have no questions in that direction.
"We haven't won so much away and that's also a difference [between competing for the title and a top four place], but when you draw, you are very close to the victory.
"It's not so far away that we can win away matches regularly also. That is our process."
Swansea will not be an easy proposition, though, especially since they won at Old Trafford 2-1 on the opening day of the season. Monk, even after losing Wilfried Bony to Manchester City, will want a minimum top-ten finish and another three points at home will make that prospect all the more brighter.
"They have such a big squad and array of talent they can change it up to many different combinations," said Monk when asked about the threat that United have. "We've prepared for different scenarios and that's all we can do.
"We have an idea of possible formations and teams but you don't want to over-complicate things by giving too much information.
"We want to concentrate on what we do best as unless we're at our best level it doesn't matter what the other team does because you're not giving yourself a chance."
Where to Watch Live
The EPL game is scheduled for a 3 pm GMT (8.30 pm IST, 10 am ET) start with live coverage in India on Star Sports 4 in India. The game can also be watched via live streaming online on StarSports.com.
There will be no live coverage on TV in the UK. Catch the game live in the US on NBC Sports, while the action can also be live streamed online on NBC Sports Extra.
Audience in the Middle East and North Africa can watch the game via live streaming online on Bein Sports Connect, while South Africa and Sub Saharan Africa viewers can do the same on SuperSport online. Australia viewers can watch the game on Fox Sports and live stream it Fox Sports On Demand, while viewers watching in Canada can do so on TSN or TSN TV.