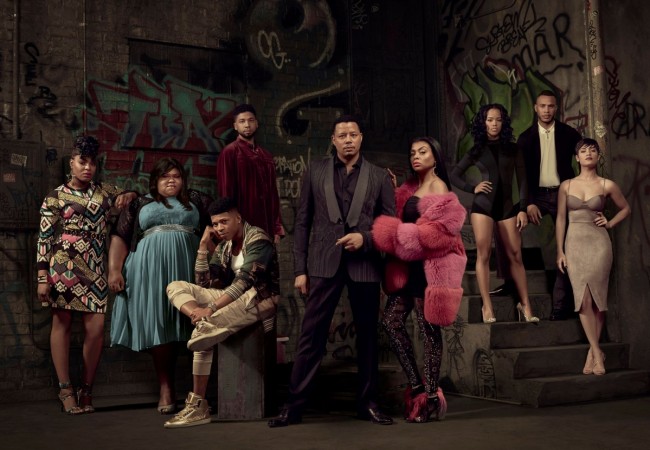 The relationship between Lucious Lyon and his former wife Cookie will take an interesting turn in the upcoming episode of Empire season 3. Episode 7 is titled What We May Be and it will be aired this Wednesday, November 30, at 9 pm EST on FOX network.
The episode is likely to mark the beginning of a final showdown between the former drug dealer turned hip hop mogul and his ex-wife. After Terrence Howard's character married Anika Calhoun in the finale of season 2, the female lead decided to move on. Currently, she is planning to begin a new life with Angelo Dubois.
But the male protagonist is not ready to give up on Taraji P Henson's character because he knows that she is the reason behind his successful business and without her he is nothing. So when she organises a special dinner party to impress Diane, the mother Taye Diggs' character, he ruins it by narrating the family history to Phylicia Rashad's character.
A trailer for Empire season 3 episode 7 shows Lucious introducing Jamal as a gay man, Hakeem as the responsible member of their family and Andre as his craziest son. The official synopsis for the episode hints that Trai Byers' character will truly prove his craziness by organising an unlikely duet with Nessa. Will he team up with Shyne Johnson and betray his father?
Click here to watch the Fox musical drama live online (only in the US). What We May Be will also be available online here for free.
Meanwhile, a promo for the new episode also hints at a team up between Jussie Smollett's character and his mother. Will they succeed in executing something big against the hip hop mogul?
Check out the official synopsis for Empire season 3 episode 8, titled The Unkindest Cut:
Andre sabotages Tiana's big appearance at a fashion event in an attempt to get Nessa into the spotlight. Meanwhile, Tariq works with Leah to try to bring down Lucious, and Jamal works with Philip to get over his PTSD.