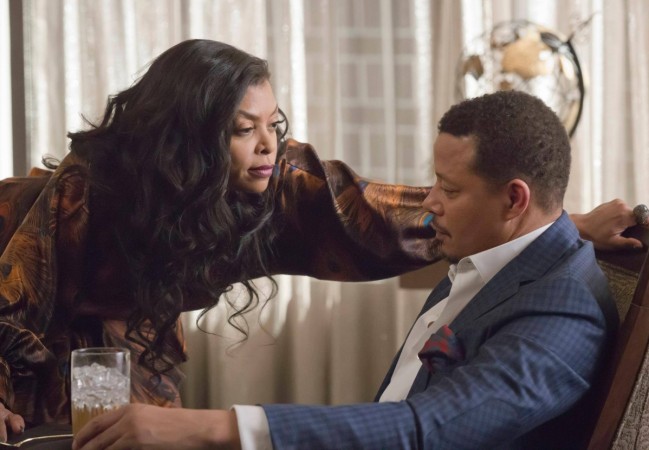 In the Season 2 finale of "Empire," the Lyon family deals with several unexpected circumstances, and none of it includes Jamal's health condition. In episode 18, titled "Past is a Prologue," Lucious (Terrence Howard) and Cookie (Taraji P. Henson) embark on a new beginning and Anika decides to end her life.
After a fateful accident involving Jamal, the Lyons try to move on by celebrating Hakeem's marriage to Laura. However, in a first look video, Henson says that fans of the show will witness a wedding that they don't expect.
In the promo, Lucious reaches out to Cookie and says that he wants her by his side. Although it isn't clear if they do get married, the preview does indicate that Lucious and Cookie will embark upon a new beginning. Does this have anything to do with Anika's suicide attempt?
Hakeem's baby mamma, Anika, tries to jump off her office building. She tells Cookie that the feds want her to testify against Lucious, and death sounds like a better alternative. Anika might not commit suicide though. She has a look of fear as she sees the cityscape from above. Furthermore, Cookie might just save Boo Boo Kitty and in the process, ensure that the Lyon dynasty has an heir.
However, what information do the feds want from Anika? This is answered in another preview clip for episode 18.
Lucious tells Cookie that the feds want him because he had to kill someone for Tommy Devoni and Rosie Perkins. The two wanted Lucious to handle a new artiste they signed on, and as Lucious describes it, "they wanted him handled" because the new artistes turned out to be a "loud mouth, selling wolf tickets and threatening other artists."
Will Lucious get arrested at the end of episode 18? Will Hakeem indeed marry Laura? What will happen to Jamal? This remains to be seen.
"Empire" Season 2 episode 18 will be aired at 9 p.m. EST on Wednesday, May 18, on FOX. You can live-stream the episode via FOX NOW.