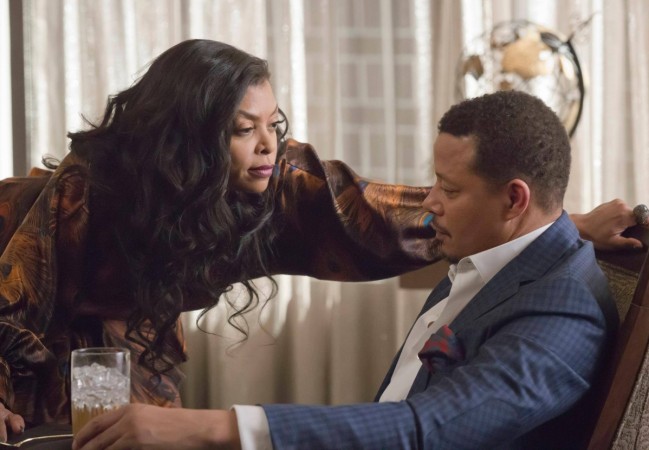 The latest instalment of "Empire" is coloured with violence. In Season 2 episode 17 titled "Rise by Sin," a gunshot goes off just as the Lyons appear on the red carpet for ASAs.
Ever since FOX's hit TV series premiered, tension among members of the Lyon family has been rife. This perhaps got more intense last week when Lucious' (Terrence Howard) mom Leah Walker was introduced to the rest of the family.
Lucious told Cookie (Taraji P Henson) in episode 16 that his mother was quite unstable and blamed him for all the troubles she endured. "She's dangerous," he added. Will Leah, in her unstable mental state, view her son as the bad guy again? Is she the one with the gun in episode 17? It isn't yet clear but her introduction to the plot is a clear indication that the Lyons' lives are threatened.
In a first look video for the upcoming episode, Henson says in a rather omnious tone: "The nerves, the tension, the anticipation, it's on. The boys are competing against each other; the son against the father and it's a lot of angst... and then the gun shot rings out."
The video clip captures a look of pure horror on Jamal's (Jussie Smollett) face. He tries to shield his parents, who are walking in front of him. Later, we find Hakeem in shock and Cookie crying. The preview clip implies that Jamal will take a bullet for his family, but it is not yet clear if he will survive.
Season 2 episode 17's synopsis (via TV Guide) reads:
Hakeem feels under pressure as he struggles to find a place for his fiancée, Laura, in both his family and his career; Cookie finally lets Jamal in on the truth about what happened to Freda's father, prompting him to warn Freda about his family's ulterior motives; and a sacrifice is made on behalf of Lucious.
"Empire" Season 2 episode 17 airs at 9 p.m. EST on Wednesday, May 11, on FOX. You can live-stream the episode via FOX NOW.