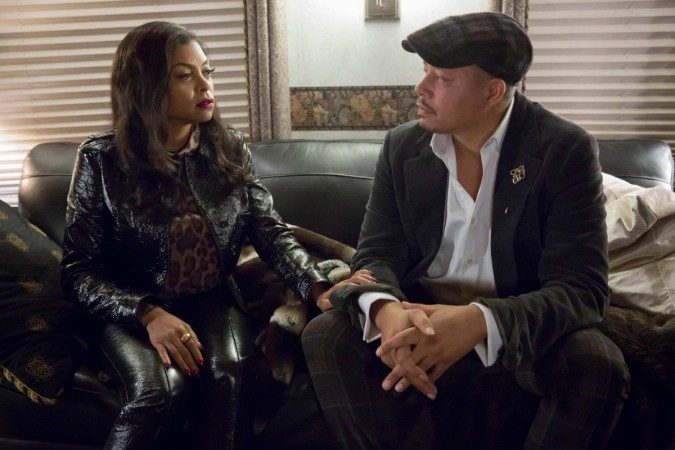 The Lyon family finally got rid of their nemesis, Camilla (Naomi Campbell), but it appears that reconciliation may be a far-fetched dream. In Season 2 episode 13 of "Empire," Lucious (Terrence Howard) and his son Andre (Trai Byers) have a nasty fight during Cookie's birthday dinner.
[Spoiler Alert]
Drama in the Lyon family is a constant, so are dinners. So when the dysfunctional group of people get together to celebrate Cookie's birthday, some deep-seated secrets spill out. In episode 13 titled "Tameness of a Wolf," the matriarch of the Lyons asks for a fuss-free celebration, but things go awry very soon.
Cookie invites Lucious and his sons to watch the rough cut video of "Boom Boom Boom Boom." It becomes clear that the head of the Lyon family uses the video to create a montage of his past and his subsequent rise to power.
In what seems like key-hole perspective into his life, Lucious walks in the neighbourhood where he spent his childhood. Furthermore, he also includes his mother's story, who was bipolar and committed suicide. This is done at Cookie's insistence. She hopes that she can fix her husband's mental conflict if she lets him express it. However, the stark scene about his Lucious' mother shocks Andre.
In a behind-the-scenes video, Jussie Smollett, who plays the role of Jamal, said, "You see an eruption not just from Andre but from Lucious that they might not come back from."
After Hakeem (Bryshere Y. Gray), Andre seems to be Lucious' new enemy. It remains to be seen how the drama unfolds between the two.
Meanwhile, Hakeem's relationship with his father will be strained again in episode 13. The promo includes a scene in which Lucious pins Camilla's death on Hakeem.
"Empire" Season 2 episode 13 airs 9 p.m. EST Wednesday, April 13, on Fox. You can live-stream the episode via Fox Now.