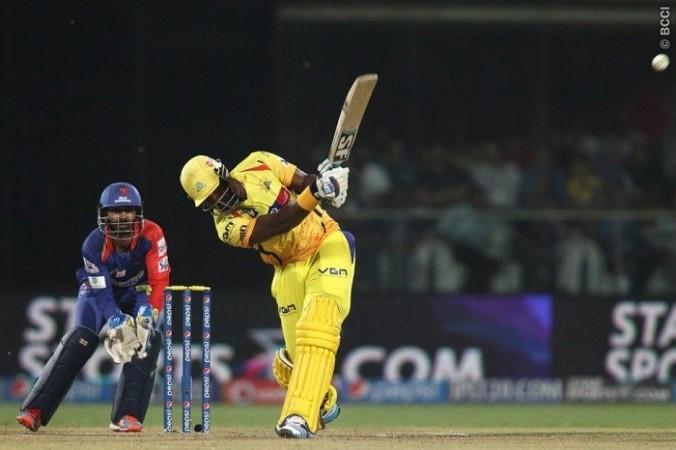 Dwayne Smith continued his tremendous form in IPL 2014 with the Chennai Super Kings also maintaining their brilliant run with an impressive eight-wicket win over the Delhi Daredevils.
DD made a game of it by posting 178 for five in their 20 overs, but CSK, with their batting arsenal, mowed down the target in 19.4 overs, with Smith (79, 51b, 4x4, 8x6) again starring with the bat for the Super Kings.
"Meant to stay out there," Smith said at the presentation ceremony after walking away with the man of the match award. "It was a good track for me as well and a very good chase for us. This is a great team."
CSK skipper MS Dhoni finished the game off with a six and a four in the final over, and admitted the spell of rain had helped the batsmen score more freely.
"We played good cricket but we gave away too many in the last two or three overs," he said. "We need to improve our bowling. We need a couple of fast bowlers who can bowl well in the death.
"The rain helped us as their bowlers found it tough, but this was also one of the best Delhi wickets I have seen.
"Smith and [Brendon] McCullum were brilliant, and [Suresh] Raina made sure he batted till the end."
Daredevils skipper Kevin Pietersen knows his team need to start picking up wins ASAP, after Delhi crashed to their second straight defeat at home.
"We thought we lost a bit of momentum, but some of our boys played some good cricket," the former England international said. "Wayne Parnell bowled beautifully, but the rain helped the CSK batsmen as the wicket was quite slow before the rain came, but no excuses.
"CSK played really well. Nobody's here to blame anyone, we probably have to win most of our games here and I still believe our team can make the playoffs."