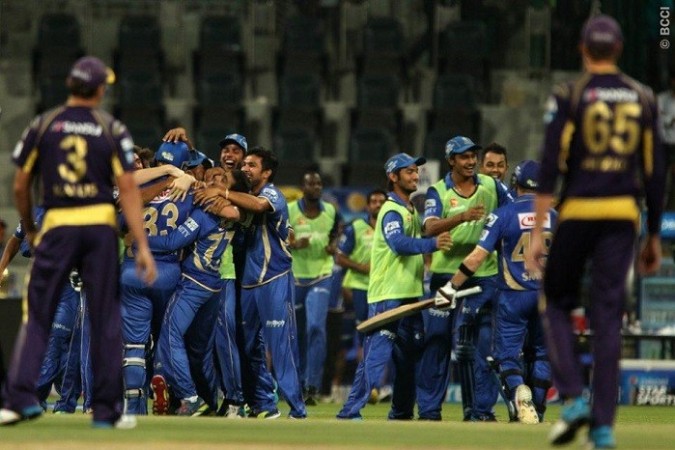 In an incredible IPL 2014 game, the Rajasthan Royals pulled off a nerve-wracking win over the Kolkata Knight Riders in a Super Over humdinger in Abu Dhabi.
With both sides finishing on 152 after their respective 20 overs, the match was taken to a Super Over, with RR just about managing to come away with a victory.
KKR scored 11 runs in the Super Over, with James Faulkner, who bowled a brilliant 19th over to keep his team in the game in regulation, doing well to restrict the Knight Riders to a makeable total. The Royals needed to pick up 12, but managed 11 runs, with the match going their way thanks to their higher boundary count.
"The adrenaline is flowing, that was an incredible game of cricket and it's a great feeling to come out on top," Royals skipper Shane Watson, who, along with Steven Smith saw his side through in the Super Over said during the presentation ceremony.
"Steve Smith is very calm under pressure and to find the gap there for two was very impressive. James Faulkner is a key component to Rajasthan Royals and it's great to see him performing like that today."
Smith, the man who hit the winning runs with an astute double off the final delivery from the unhittable Sunil Narine, was ecstatic after the victory. "Very happy. It is exciting for cricket, a Super Over," he said. "Chasing 12 in a Super Over is quite a tough task. Just happy to get there.
"Jimmy bowled an unbelievable over. The way we finished was amazing. Narine is a quality bowler. We knew it was going to be tough. Watto said he was going to bowl flat and short. He got one away to the boundary. My job was to hit the gaps and take twos."
KKR captain Gautam Gambhir, who finally got a score of note in IPL 2014, was understandably disappointed by the loss, and believes his side deserve to be in a better position after five games than the one they find themselves in having won just two this season.
"It's very disappointing to lose," Gambhir said. "We deserve to be in a better position in the table, we could have won all three matches we have lost but that's the way T20 cricket goes, we know we are playing well. I am happy that I finally got some runs today but it was important to be aggressive at the top."