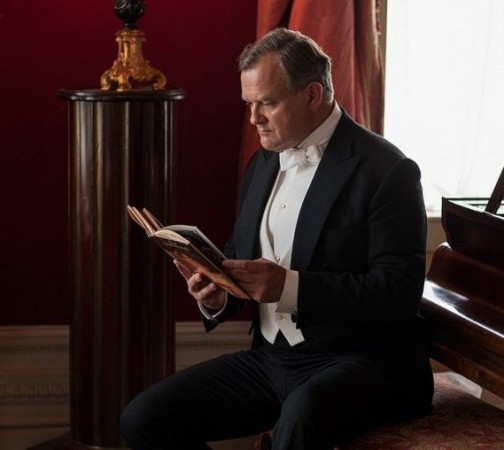 For fans of "Downton Abbey", Season 6 offers a finality of sorts. The last instalment of the period drama has attempted thus far to tie up any loose end in its plot and offer a sense of closure to the audience. However, does this mean the patriarch of Downton Abbey, Lord Grantham (Hugh Bonneville), may not survive till the end of the show? He has been complaining of stomach pain since the premiere of Season 6.
The synopsis for the upcoming episode indicates the head of the Crawley family will collapse in Episode 5. This certainly must be a result of his ill health. In the past few episodes, Lord Grantham has been talking about his stomach ulcer and the pain ensuing from the open wound. Will this lead to other complications or agonising discoveries about his health?
In the promo for Season 6 Episode 5, the Dowager (Maggie Smith) tells her son the minister of health will be at Downton. This, we presume, is about the local hospital. However, the minister's presence could in fact help Robert if his assistance is required.
Elsewhere in the episode, Lady Edith (Laura Carmichael) will have a romantic date with Bertie Pelham, the estate agent at Brancaster. The two will meet at London and we hope she does find herself in a stable and healthy relationship with Bertie. The estate agent has been obvious about his interest in Lady Edith, but it remains to be seen if her past impedes their romance.
Season 6 Episode 5's synopsis reads:
Thomas offers to help Andy with a problem; Spratt comes to the aid of Denker; Neville Chamberlain comes to dinner; Robert collapses; and Mary becomes suspicious of Marigold.
"Downton Abbey" Season 6 Episode 5 airs on Sunday, 31 January, at 9 pm on Masterpiece. You can live-stream the episode here.
Watch the promo here: