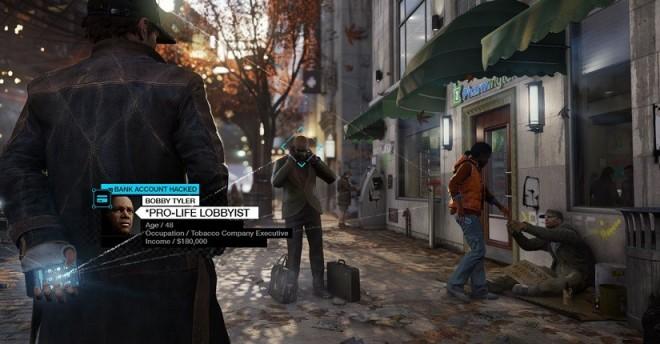 Watch Dogs, the upcoming open world game from Ubisoft, that has seen delays get some new information on the size of the map, online contracts and sound tracks hacking. The game will be releasing a video at PAX East, but not for the Xbox One version.
Watch Dogs is a hacking game where people control the protagonist Aiden Pearce. It is set in Chicago and will allow them to hack into virtually anything to obtain information and also control the situations making it easy to escape from police or from other hackers.
A YouTube user, KnightRobby of Open World Games said that he compared the size of the maps for Watch Dogs with that of GTA 5 and found that the map size of Watch Dogs was smaller than the other.
In one of the trailers of Watch Dogs, a scene shows that he is getting down from a train, and near the doors is the supposed map of Watch Dogs and when asked about the maps placed there, Colin Graham, the director of animation at Ubisoft Montreal said, "Why do you think it is there?"
Graham revealed some other details on Watch Dogs via his Twitter handle, confirming that the online contracts in the game will be timed. The online contracts will probably have the objective of players spying undetected.
After learning that, there will be a lot of Radio Stations in the game and Graham revealed, "I won't give a number, but it's a lot!" It was also revealed by GamingBolt that players will be able to collect songs from other people by using the song sneak app or by hacking their phone.
The game will have a music player, but will be placed inside the cell phone of the protagonist, Aiden. "No, we decided that it was better to have the media player in your phone. Hacking to get music is more WD style,"tweeted Graham.
He has also revealed that there will be no loading screens in the game, his tweet said, "WD [is] an open world architecture, and we have good mission streaming. We don't like loading screens."
He also said that a new video footage will be released for PAX East, but the footage will be of PlayStation 4 and not Xbox One.
Watch Dogs will be released on 27 May for PC, PlayStation 3, PlayStation 4, Xbox 360 and Xbox One. There will also be a Wii U version, but it has been delayed and will be released later.
Image credit: watchdogs.ubi.com
(YouTube Courtesy: Open World Games)