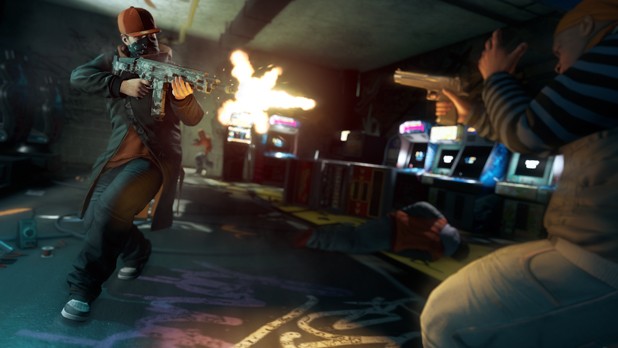 Ubisoft's open world title, Watch Dogs will get a boost as the company announced a new downloadable content (DLC) that will be adding three more missions to this action-adventure video game. The DLC will however be for the single-player mode only.
The new DLC will also include unlockable items, said Ubisoft in a post on its official blog. The DLC as noted earlier will introduce players to three more missions allowing them to explore more of the fictional Chicago.
Three New Missions
This mission tasks players to infiltrate the home of an Internet mogul and extract information (via hard drive) on the protagonist Aiden Pierce and the hacking collective Dedsec. But all these must be completed before police make the raid. Players must also eliminate the mogul for their own safety.
Players will have to break in to the Viceroy stronghold and find the new Biometric Rifle that has been shipped to Chicago. Players have to make sure Aiden gets his palm on it before others since the weapon can fire only for the first person who has got his palm imprinted on it. The weapon is ideal for long-range attacks and it also has a high rate of fire which helps in close fights.
This mission tasks the player with finding the location of a secret meeting between the Chicago South Club and some corporate CEOs and stopping any dealings that might be sealed. But players will have to eliminate scramblers by tracking their vehicle. Players will also have to terminate all those who are present at the meeting. The mission will involve both driving and an assassination.
Weapons
Players will not only be receiving the Biometric Rifle, but will also get Auto-6 pistol that can deal heavy damage to rivals.
New Outfits
As players progress though thier missions they will be eligible for new outfit - the South Chicago outfit, boosts - Dedsec Battery boost (provides additional phone battery), Blume Weapon boost (reduces recoil and increases loading speeds), Driving Master boost (increases the hit points of you vehicle) and ATM Hack boosts (this will provide players with more money).
Pricing Details
The DLC is available for free to all the Season Pass holders and players who do not have the Pass can buy the DLC for $6.99. Season Pass can be bought for $19.99.
11 Easter Eggs Detailed (SPOILER ALERT)
Below is a list of 11 Easter Eggs that have been detailed on the Ubisoft's blog:
Beware the Night - Players will find this when they look around after entering Aiden's sister's house. Aiden's nephew is seen playing a video game, and on a closer look it is the recently launched 'Child of Light.'
I Am the One Who Hacks - Players hacking the electronic road signs will find new and old gems.
Celebrity Sightings - Players can either spot using the camera or can spy on celebrities like Aisha Tyler and pro stock car driver Brad Keselowski who will be in the game as NPCs.
Profile This - The game has its own Galtero Blanco (Walter White) who works as a laundry manager and is suffering from terminal cancer.
Arcade Junkie - Players will be able to recognise a Far Cry 3 Blood Dragon arcade amidst other such arcaded in Rossi-Fremont area.
Raining Rabbids - Players will find these Rabbids all over the city - in bars, nephew's room and on newsstands.
Hasta La Vista, Abstergo - Players will be spotting several Abstergo employees (in reference of Assassin's Creed 4: Black Flag).
Eddie Kenway - Players will find a videogame clerk who has changed his name to Eddie Kenway (in reference to protagonist in Assassin's Creed 4: Black Flag). Players can find him in Privacy Invasion side quests.
Bonding Over Blood - In one of the Privacy Invasion side quests, players will find a kid explaining Assassin's Creed to his dad. This is found after accessing your main secret bunker.
Somebody I Used to Know - Players will find Oliver Garneau (a big shot in Abstergo Entertainment who went missing) during the last Convoy mission.
Scoring Changes in Multiplayer Modes
Ubisoft has announced in their game forums that it has brought in some change in scoring for the Multiplayer modes of Watch Dogs. The company said these features will allow players to complete the hacking session without getting disconnected and incurring a penalty.
Below are the new changes:
The victim of a hacking invasion will not lose his/her Notoriety, even if they fail to find the hacker.
Players losing a ctOS Mobile Challenge will never lose Notoriety, provided they have all passed atleast a few checkpoints. Even if they lose the match they will still be able to gain Notoriety.