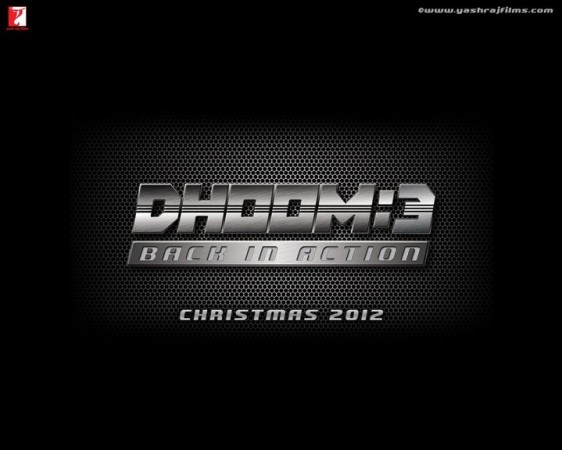 The motion picture of the highly anticipated action sequel "Dhoom 3" first look has been released featuring Aamir Khan.
The first look of the film gives a small insight into the story begining with the blaring sirens of the Chicago police. As the motion teaser begins zooming out, the picture becomes clearer with a bare torso-ed Aamir looking out over the Chicago skyline from a skyscraper. Police choppers are seen in the background.
The interesting animated poster is Bollywood's latest fixation over motion teasers which started off recently by Hrithik Roshan starrer "Krrish 3". Recently, Akshay Kumar's upcoming film "Boss" also came out with a motion teaser.
Aamir had recently revealed he was more than eager to share inputs of the highly anticipated flick.
"Guys... I just finished seeing the final cut of D3... and I cannot wait for y'all to watch it... Suddenly Christmas seems too far away!!!" he had said on Facebook last week.
According to reports, post-production work of "Dhoom 3" is said to be in full swing with the team leaving no loopholes for the December release.
Recently, Hindustan Times quoted a source as saying that the film was made under high security and away from the eyes of the media. Only selected authorised persons were allowed access to a password protected room, where the film's post-production works are being undertaken.
"One has to go through three-tier security to get into this chamber. Plus, the main door is password protected and it changes every day to prevent unauthorised access," revealed the source to the news agency. "Of course, Aamir (Khan; lead actor) and Aditya are always allowed. Besides them, only two other people from the team (those actively working on the trailer and the poster) are authorised to go in."
"Aditya is the one who takes all the final decisions, but Aamir is always kept in the loop," the source continued.
The third-installment of the action flick produced by Yash Raj Films will have Abhishek Bachchan and Uday Chopra reprising their cop and helper camaraderie, while Aamir Khan will play the genius crook with partner Katrina Kaif.
Watch the official motion poster of "Dhoom 3" here: