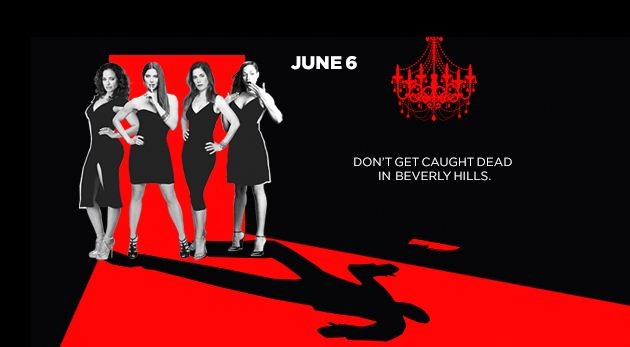 The wait for our favourite maids is finally over, as Marisol (Ana Ortiz), Rosie (Dania Ramirez), Carmen (Roselyn Sánchez) and hopefully, Zoila (Judy Reyes) return to Lifetime on Monday, June 06. Season 4 episode 1 of "Devious Maids," titled "Once More Unto the Bleach" will give fans resolution regarding the major cliffhangers of Season 3 finale.
First and foremost, we will see that Zoila has, in fact, survived childbirth, and it is safe to assume that Genevieve (Susan Lucci) chose to save her over her baby. However, a clip posted on the "Devious Maids" Facebook page suggests that there may be a time-jump when the show returns.
The clip shows Zoila talking to Carmen about her hot neighbour that she really likes. If she has actually lost her child, it seems unlikely that she is back dating already.
Meanwhile, fans can expect the premiere episode to feature Eva Longoria. In the trailer for "Once More Unto the Bleach," she is seen in a maid's attire, saying, "You're the meanest person I've ever met and I was on 'Desperate Housewives'." Funny as she may be, Longoria will unfortunately be seen only in episode 1 of the season.
Also Read: Fiore and DeBlanc hold exorcism for Jesse in "Preacher" episode 2
One of the most interesting questions the fans want answered in the premiere is the fate of Adrian (Tom Irwin). We saw how the Powell mansion went up in flames in the Season 3 finale and Adrian was inside. Hopefully, he made it alive, even if he is sporting an injury or two.
Don't forget to watch Season 4 episode 1 of "Devious Maids" at 9 p.m. (EST) on Lifetime. You can also live-stream "Once More Unto the Bleach" via My Lifetime.