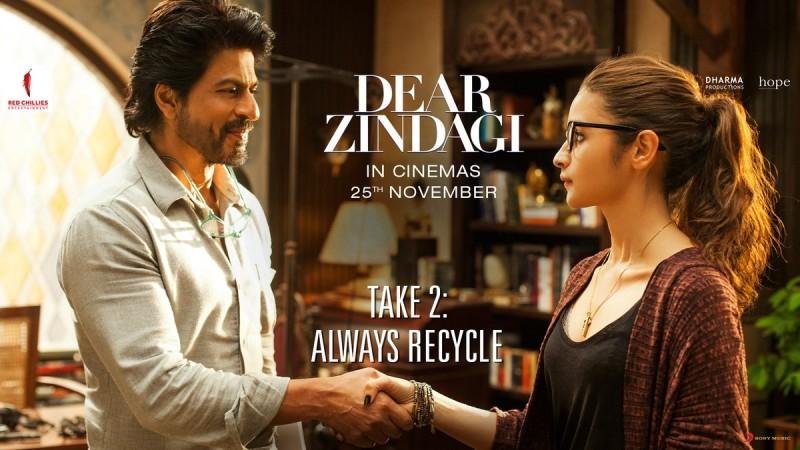 Gauri Shinde's next Dear Zindagi is turning out to be more than just a slice-of-life film. It's relatable and miles away from all the commercial hokum Bollywood has been churning out lately.
The second teaser aka Dear Zindagi Take 2 is funny and so every day. In the minute-long clip, Shah Rukh Khan and Alia Bhatt introduce themselves to each other as Jahangir Khan and Kaira. Later, they even engage in a fun banter where Khan insists that Bhatt cracks better jokes.
As promised by Shinde, the teasers are turning out to be little pockets of information that "invite the viewer bit by bit into the experience of the film."
Breaking through the clutter, the makers of Dear Zindagi have adopted a non-conventional way of easing viewers into their film. Instead of a full-fledged trailer, they will be releasing a series of teasers.
Scheduled to be released on November 25, Dear Zindagi also stars Ali Zafar, Aditya Roy Kapur, Kunal Kapoor and Angad Bedi in key roles.
Meanwhile, here's what industry people, critics and social media users have to say about Dear Zindagi Take 2:
Rahul Nanda: This is so cute. Loving the bad jokes. Seriously can't wait for this
Atul Mohan: Joys of life come in small packages. #DearZindagiTake2 teaser is here
Faridoon Shahryar: Amusing and simple-as-day-to-day-life #DearZindagiTake2
Sarah: @iamsrk you the best Jug is very simple and comfortable Character #DearZindagiTake2
Cool Dude: #DearZindagiTake2 has crossed all the LIMITS of Sweetness
JIGAR: Better and more beautiful. Such happy vibes for this film. SRK is charming as ever. #DearZindagiTake2
Srinanda Ghosh: @iamsrk no over the top comedy or action.nothing out of d box.Just a simple story with loads of emotion,looking promising #DearZindagiTake2
Media Boy: #DearZindagiTake2 is absorbing, it looks so amusing and fresh!
Ashfaq Baig: #DearZindagiTake2 it's so refreshing and m already getting happy vibes. Tq @iamsrk @aliaa08 @gauris
Muhammad Qasim Iftik: The second teaser of Dear Zindagi is so cute!#DearZindagiTake2 Shah Rukh Khan Gauri Shinde #AliaaBhatt