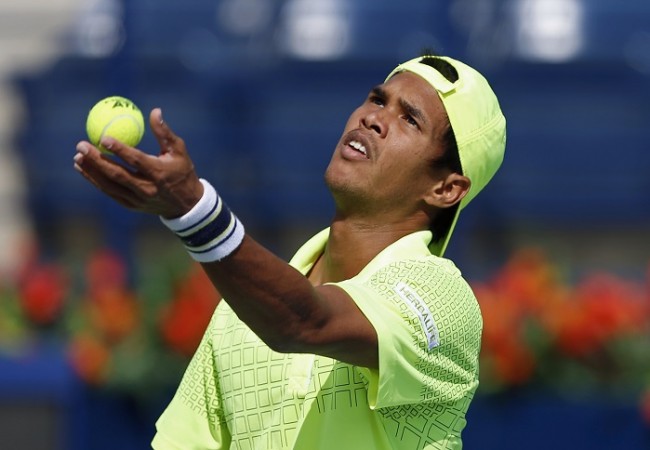 "I hope the guys (Leander Paes and Rohan Bopanna) give me a chance to make amends," Somdev Devvarman said after his rather disappointing loss to Filip Krajinovic on Friday in the India vs Serbia Davis Cup World Group Playoff in Bangalore.
Where to Watch Live
Get the Yuki Bhambri vs Filip Krajinovic match report HERE
Get the Somdev vs Lajovic report HERE
The revserse singles of the Davis Cup tie between India and Serbia is scheduled to begin at the KSLTA Courts in Bangalore at 4 pm with live coverage in India on DD Sports. Viewers around the world can catch all the action via live streaming online HERE.
Well, in stunning style, the doubles team did just that, coming from nowhere, when all seemed lost, to pull off a remarkable five-set victory over Nenad Zimonjic and Iliya Bozoljac.
Now, it is up to Somdev and Yuki Bhambri to show they have some heart and fight in them as well in the reverse singles; to come out on court and pull out all the proverbial stops and quell the Serbian charge, even if they will be playing against much higher-ranked opponents.
The first player up on court Sunday will be Somdev, with the 29-year-old set to take on Dusan Lajovic, who breezed past Bhambri in the first match of the tie with his graceful backhands and high kick serves, before Bhambri faced off against Krajinovic.
Despite a solid performance from the Serbian, though, it was Bhambri's poor play, especially off the forehand, which made it all that easier for Lajovic, ranked 61 in the world.
If Somdev can play a lot better than Bhambri did in that Friday match, and also a lot better than he did against Krajinovic, then India have a decent chance of levelling the tie at 2-2.
Right now, despite the doubles loss, Serbia are still in a strong position, knowing full well all they need is one win in the singles.
India, though, seem to perform better with their backs firmly planted against the wall, and this side will look to that brilliant comeback against Brazil four years ago as inspiration.
In that tie, India made a stirring response after losing the first two singles, with Paes and Mahesh Bhupathi getting a point back in the tie before Somdev and Bopanna did it all in the reverse singles on the final day.
Somdev needs to set the tone again on Sunday at the KSLTA Stadium, and come what may find a way past Lajovic.
While Bhambri looked like a lost puppy on the court in his first match, it is amazing what confidence can do to a player, and if Somdev can pull off a victory over Lajovic, then India's youngster might just get the belief that he can indeed get past the big-serving Krajinovic, whose power and pace in the end was too much for Somdev in the second match of the tie on Friday.
Davis Cup Schedule: Sunday: Somdev Devvarman (India) vs Dusan Lajovic (4 pm IST)
Followed by
Yuki Bhambri (India) vs Filip Krajinovic (India).