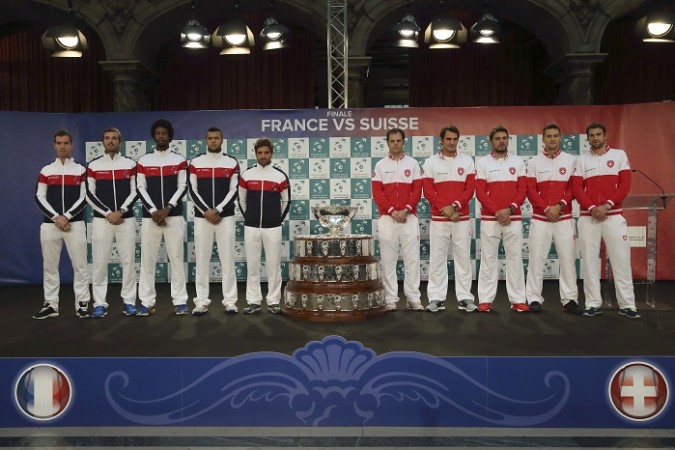 Roger Federer begins his quest for that one title which has eluded him when he and his Switzerland side take on France in the Davis Cup final in Lille on Friday.
Federer, regarded by many as the best men's singles player of all time, and the record holder with 17 Grand Slams titles, has never been able to call himself a Davis Cup champion; that could all end if the great man finds his groove along with his partner in crime Stanislas Wawrinka against the powerful France in their own backyard on the clay courts of the Stade Pierre Mauroy.
The Davis Cup final kicks off on Friday with a mouthwatering singles match between Wawrinka and Jo-Wilfried Tsonga, which will be followed by an equally intriguing clash between Federer and the unpredictable Gael Monfils.
Much of the build-up to this Davis Cup final has been about that alleged squabble that Federer and Wawrinka had after the semifinals of the ATP World Tour Finals in London last week, and Federer's health.
The Swiss maestro pulled out of the championship clash of the ATP World Tour Finals against Novak Djokovic due to a back injury, and there were serious doubts whether he would be able to overcome that problem and take part in the Davis Cup final.
However, those doubts and worries have been allayed after Federer took to court for practice on Thursday.
"Obviously if I'm stepping out on the court, that means I can play," Federer told Davis Cup's official website.com. "That's most important.
"I'm just really pleased that I'm actually able to play tomorrow. I'll give it a go. Definitely looking forward to playing against Gael. I think he's a great player, very exciting to watch. I like to play against him, too.
"So things have been going very well for me the last week. It's been a difficult week, but I'm happy where I am today."
While Monfils has given Federer quite a few difficult matches in the past, the latter does hold a formidable 8-2 record against the Frenchman, and even if the final will be played on Federer's least favoured clay, the Swiss will go into the match as the clear favourite.
Monfils, though, will look to build on the US Open quarterfinal earlier this year, when he pushed Federer to five sets before just failing to come away with a victory.
The French ace believes the presence of captain Arnaud Clement will help him stay focused during the big points.
"For sure it will help me, this last match on my mind," said Monfils. "But this one's going to be different. You have someone you can share your emotion [with] during the match, the captain who can help me, of course, if maybe I'm tight in the match.
"Definitely I expect to play a big match again because I know I need to play a big match to beat him. I'm very happy to have this opportunity again."
What extra pressure Federer or Monfils will be on will depend on the first match of the Davis Cup final between Wawrinka and Tsonga. Tsonga has not been in the greatest of forms, and the two France singles players have only played five matches between them over the past couple of months, while Wawrinka and Federer have been playing high-quality tennis non-stop.
Tsonga, though, is not worried about the fact that his team have had considerably less match practice.
"If I didn't play these past weeks, it's not because I chose not to play," Tsonga, who has only just recovered from an arm injury said. "Secondly, what reassures me is that in the past I didn't always need to have a lot of competition under my belt to play well.
"So, on the contrary, when I play too many tournaments, sometimes I get tired. Honestly, for me, it is not something that will be a factor this weekend."
Where to Watch Live
Day 1 of the Davis Cup final is scheduled to begin at 2 pm local time (1 pm GMT, 6.30 pm IST) with live coverage in India on Neo Sports. Viewers in France can catch the action on France TV and Canal+ while SRG SSR will show the David Cup final live in Switzerland.
UK viewers can catch Day 1 of the Davis Cup final live on Eurosport or via live streaming on their online Player. The Tennis Channel will show the matches live in the USA, with the option to live stream on their Website.
International viewers, including India, can watch action by live streaming on Davis Cup TV.