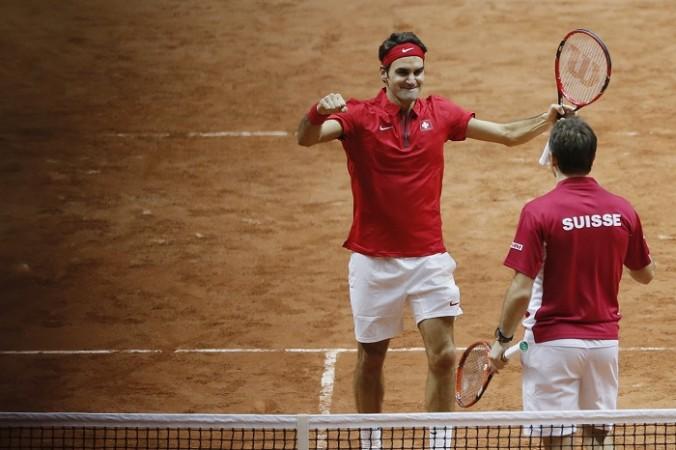 Roger Federer made up for that awful loss against Gael Monfils by firing Switzerland, with plenty of help from Stanislas Wawrinka, it must be said, to victory in the doubles on Saturday, and the Swiss maestro will now look to clinch the Davis Cup title for his country by topping France in the first singles on Sunday in Lille.
Federer is scheduled to take on Jo-Wilfried Tsonga in the first singles match of Day 3 of the Davis Cup final, and if the 17-time Grand Slam champion beats his opponents in that match, then Federer will be up there standing tall with the only major title he has not quite won in this sport.
Switzerland were unstoppable in the doubles on Saturday, with Wawrinka, in stunning form, and Federer swatting aside Julien Benneteau and Richard Gasquet 6-3, 7-5, 6-4 in just over two hours.
That win gave Switzerland a 2-1 lead over France, meaning they just need one point from the final two singles matches on Sunday to clinch the title.
"I'm very happy, of course, that we played so well today," said Federer to Davis Cup's website after the doubles victory with Wawrinka, something the famed duo haven't been able to pull off too often.
"It's always a pleasure playing with Stan. But I think today we played exceptionally well," said Federer. "Nothing's won really yet, but clearly it could be a big point."
While Benneteau and Gasquet could have certainly played better than they did on Saturday, it is unlikely they would have come out on top as Federer and Wawrinka, in particular, were just way too punishing with the groundstrokes, pounding France into submission.
"I feel that I'm playing well, good tennis," said Wawrinka, the hero for Switzerland, so far, having won both of his matches so far.
"I'm great on the court, a lot of confidence. You know, I'm here to go for the win, not to expect something else. I need to try everything I have in my racket to win those matches."
Wawrinka will take court in the final singles match against Monfils, who will hope his teammates can do him a favour and keep the tie alive. Monfils was at his absolute best against Federer in the second singles match on Friday, cruising past his more illustrious opponent to level the scores.
However, all of that will matter little if Federer picks up victory in the first singles. "Of course it's going to be very, very difficult now, with a lot of hope in these doubles," said France captain Arnaud Clement. "We have to do something big, very big.
"We still have a chance, and we're going to try as hard as possible. It's a big challenge, big challenge for us, to beating No. 2 and 4 in the world in the final of the Davis Cup."
Where to Watch Live
Get the Report HERE
Day 3 of the Davis Cup final between France and Switzerland is scheduled to begin at 1 pm local time (12 pm GMT, 5.30 pm IST) with live coverage in India on Neo Sports. Viewers in France can catch the action on France TV and Canal+ while SRG SSR will show the David Cup final live in Switzerland.
UK viewers can catch Day 1 of the Davis Cup final live on Eurosport or via live streaming on their online Player. The Tennis Channel will show the matches live in the USA, with the option to live stream on their Website.
International viewers, including India, can watch action by live streaming on Davis Cup TV.