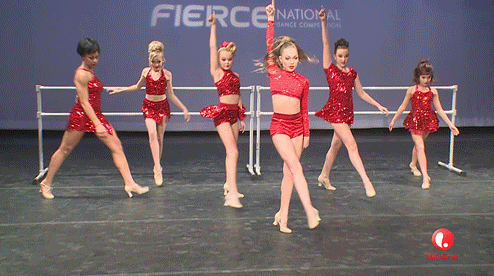 Nia Frazier might have had a good start to Season 6B of "Dance Moms," but the rest of the season might not turn out so well. In the latest instalment, Season 6 episode 24 titled "Nia and Kendall Face Off," Abby takes a decision that not only upsets Nia, but her mom as well. But it doesn't stop there. Things get heated as Holly brings her daughter's manager to the sets.
In the upcoming instalment of the dance reality show, Abby gives two elite junior team members a duelling trio. In episode 24, Kendall Vertes joins JoJo Siwa and Kalani Hilliker and has to perform a "Charlie's Angels" inspired number. Her castmate Nia is teamed with guest dancers Jalen Parker and Simone Johnson.
So far, the male guest dancers on "Dance Moms" haven't been popular at all. In last week's instalment, Brynn Rumfallo didn't want a duet with a boy and in episode 24, Nia's mom Holly experiences the same feelings.
According to the synopsis (via TV Guide), Holly brings her daughter's manager to the ALDC studio. Although it's still unclear how this scene plays out, suffice it to say that Abby won't be happy when she sees this.
The dance coach's anger is palpable elsewhere in the episode as well. The summary suggests that Abby leaves her team when the dancers are criticised for their technique during their group dance, "Wax Madonnas" at the Fierce Dance Competition in Fresno, California.
If you're wondering how Abby's dance company performed at the competition held on April 23, then here are the results: according to a "Dance Moms" spoiler website, the group dance won second in the advanced teen division and was placed fourth overall.
Kendall, Kalai and JoJo's trio won the second place in the teen duet/trio division but Nia's performance was placed first in the same category and third overall.
Perhaps Holly reconsiders her attitude towards Abby at the end of episode 24.
"Dance Moms" Season 6 episode 24 airs at 9 p.m. EST on Tuesday, Sep. 13. You can live-stream the episode via My Lifetime.