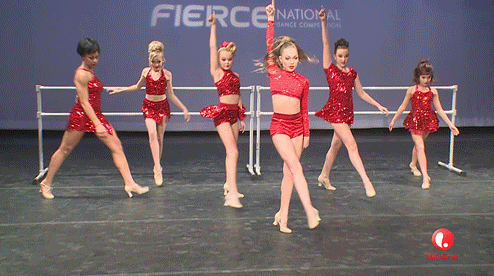 "Dance Moms" cast member Maddie Ziegler is arguably one of the best dancers and a fan-favourite, but is she invincible? This will be decided when "The Book of Henry" star goes head-to-head in a competition against newcomer Brynn Rumfallo in Season 6 episode 12 titled "Brynn's Big Moment."
[Spoiler Alert]
The promo indicates that Brynn's group will compete against Abby Lee Miller's star performer, Maddie Ziegler's group. If Brynn does win, she wins a permanent spot in ALDC's elite junior team. With a prize that rewarding, Brynn immerses herself in dance and seems entirely focused on a win.
In the video clip, she says, "I know the moms don't want me here but Abby does. She's the only one that counts so I can't let Miss Abby down."
According to the "Dance Moms" spoiler website, the battle of the trio took place at the Xpression Dance Competition in California Jan. 16, 2016. Brynn's group dance routine with Mackenzie Ziegler and Kalani Hilliker won against Maddie's group, which included JoJo Siwa and Kendall Vertes.
Elsewhere, the ALDC team will participate in an advertisement for Abby's West Coast dance studio. The commercial will be directed by YouTube star Todrick Hall, who will be shocked by the dance coach. In the promo, he asks the dancers, "Does this happen everyday?" and one of them replies, "Pretty much."
Season 6 episode 11's synopsis (via TV Guide) reads:
"Abby enlists Todrick Hall to direct the girls in a commercial inspired by "The Wiz" in hopes of gaining more business. Later, Brynn has a chance to join the ALDC if she can lead a team of her choosing to victory against a group led by Maddie."
"Dance Moms" Season 6 episode 11 airs Tuesday, March 22 at 9 p.m. EST on Lifetime. You can live-stream the episode via My Lifetime.