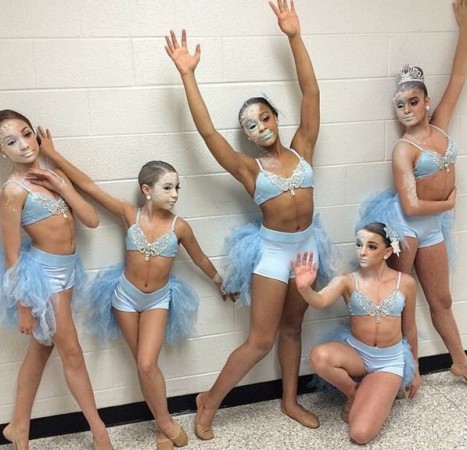 The latest instalment of Lifetime's reality dance show "Dance Moms" will verge on being scary and weird. In Season 6 Episode 10 titled "Abby Lee Horror Story" Maddie Ziegler and the rest of the ALDC students have to be part of the dance routines that are far from normal.
[Spoiler Alert]
The theme of Episode 10 seems to be crime. The dance coach informs Maddie that her solo dance routine will involve a killer's predicament just after murdering someone. As "The Book of Henry" star listens to what is expected of her, she looks bemused.
However, it must be mentioned that Maddie takes on the role pretty well. In the promo for the upcoming episode, the dance prodigy executes her solo with dramatic effect. Maddie will not be the only student performing at the upcoming competition in North Carolina. She will be joined by Brynn Rumfallo and Kendall Vertes.
Brynn's inclusion will cause anxiety among some of the moms. In another video clip, Jill Vertes is seen telling Ashley Rumfallo, "You sabotaged six other kids to make sure yours got what she needed. You are pure evil. You guys can all go to hell!"
This statement annoys Abby, but perhaps she will find solace in her team's wonderful performance. According to a "Dance Moms" spoiler website, Maddie won the first place in the 13-14 years category for her solo titled, "Lizzie Borden." Her co-star Kendall was placed second in the same division. The other solo performer, Brynn won the second place for contemporary dance routine, "Black Dahlia."
Season 6 Episode 10's synopsis released on TV Guide reads:
The ALDC travels to Northern California, where they perform dark routines. Later, the moms' attempt to play a prank backfires; Maddie, Brynn and Kendall compete in solo dances; and Ashlee goes to great lengths to give Brynn an advantage.
"Dance Moms" Season 6 Episode 10 airs on Tuesday, March 8, at 9 p.m. on Lifetime. You can live-stream the episode via My Lifetime.