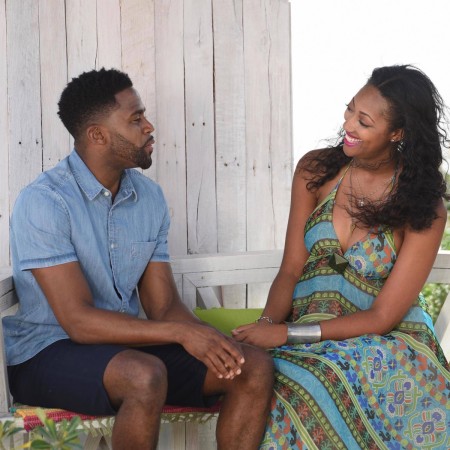 There's drama and lots of it at the pristine beaches of Anguilla. In the latest installment of FOX's new TV show, "Coupled," Imari will face an emotional turmoil as his relationship with Dominique crumbles.
In Season 1 episode 3 of the dating show, the boys will have a conversation in their bungalow and what ensues is a clinical dissection of Imari and Dominique's relationship. While Imari seems frustrated with his partner, the other boys will do little to make him feel better.
The digital advertising professional's grouse with Dominique will finally be exposed in the upcoming episode. Imari will make his annoyance apparent when he tells the boys that he isn't compatible with the "Coupled" cast member.
In the promo for Season 1 episode 3, titled "Chemical Attraction," he states that Dominique doesn't participate in the same things as he does. "I felt, logically, I made the correct decision based off of the time I spent, but it's not there... The Imari that I am, she's not bouncing off the walls," he says.
This dearth of chemical attraction will put Imari in a quandary. In the upcoming episode, the media professional will wonder if he's made the right choice, and if he has a chance with Alicia. After feeling inspired by this thought, Imari will text the latter and this is when things go awry.
In the promo for Season 1 episode 3, Alicia has a conversation with the man of her interest and what's supposed to be a private conversation will become public knowledge.
Later on in the show, an angry Dominique will confront Imari. However, he won't really try to explain himself. In the promo, he appears very nonchalant and it remains to be seen if the two will be together after this incident.
"Coupled" Season 1 episode 3 airs at 9 p.m. EST on Tuesday, May 31, on FOX. You can live-stream the episode via FOX NOW.