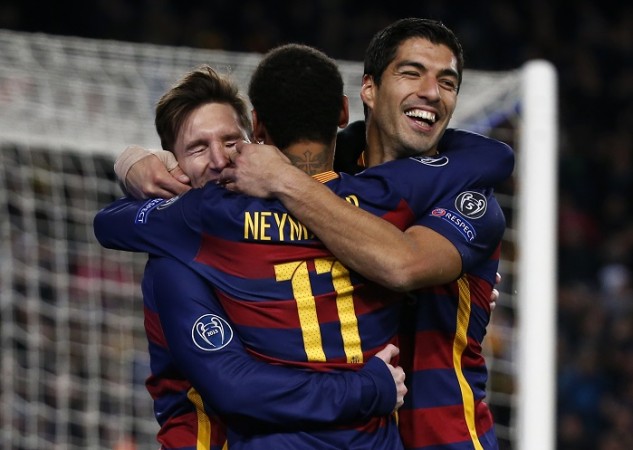 Barcelona, who are on course for a treble this season, are set to face Athletic Club Bilbao during their Copa del Rey second leg quarterfinal clash at Camp Nou on Wednesday. Barcelona have an edge over Athletic Bilbao, who lost the first leg 1-2.
With such a first leg scoreline, one things is assured that the visitors will go all out against Barcelona, which should make for an entertaining viewing as the home side are always expected to play with their characteristic flair.
Bilbao must be fully aware of Barcelona, who can be even more dangerous at home with players such as Lionel Messi, Luis Suarez and Neymar in the front three. The trio can pose problems to any top team in the world.
Bilbao, who were outplayed in the first leg, came up with a determined effort and Barca manager Luis Enrique expects the visitors to pose a huge threat at Camp Nou in the second leg. Bilbao will be pretty confident after their win against Eibar in their last La Liga game.
"I'm expecting the same Athletic we saw in the first leg. Maybe even more dangerous.They're going to need to attack because a scoreless draw will be no good to them. Even if we hadn't conceded that late goal in the first leg this would still be a closely disputed tie. Our objective is to go out and win the game," Barcelona's official website quoted Enrique as saying.
Barcelona, who have been in scintillating form for some time now, should be sure of reaching the semifinals of the Copa del Rey as they are a confident unit after thrashing Bilbao in their last La Liga game. The score read 6-0.
Barcelona have played some outstanding football, which has seen them win a number of matches. Enrique's men, who are on a 24 game unbeaten streak, will be eager to maintain their record and reach the semifinals of the Copa del Rey, defeating Bilbao.
However Enrique, believes such records show that they have been a consistent unit.
"It means we're consistent, and if that helps you win titles then that's great, but everything has yet to be decided. We're still in all three competitions. We're now coming into the key phases of those competitions. Whether we've won 24 games or 28 games or 15 games, that doesn't matter," said Enrique.
Bilbao, who are the underdog of the match, will be eager to break their unbeaten streak for which they need their star player Artiz Aduriz to play on top of his game on Wednesday. The Bilbao striker has been their best player, who also slotted the only goal for the club in the first leg.
Where to watch live
The Copa del Rey quarterfinal -- Barcelona vs Athletic Bilbao – is scheduled for 9:30pm local time (2am IST, 3:30pm ET, 8:30pm GMT) start. There is no live TV coverage of the match in India. Canal+, Abono Futbol and MovistarTV Futbol will broadcast the match live in Spain.
Barcelona vs Athletic Bilbao quarterfinal will be shown live in the UK on LaLiga TV Copa.
Bein Sports will provide live coverage of the game in the US, Canada, France, Middle East and North Africa, with the live streaming option on beIN Sports Connect.