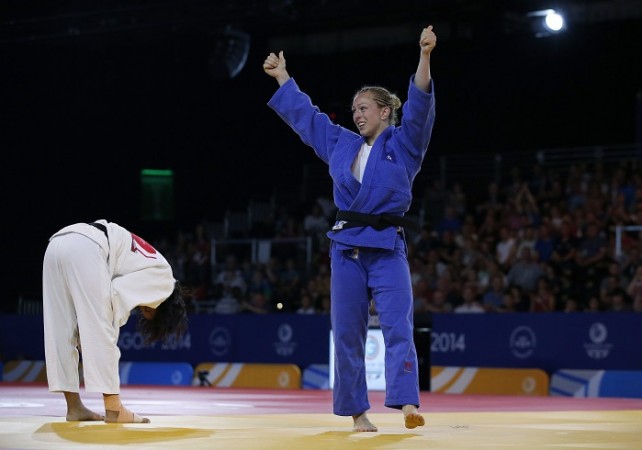 After an eventful first day at the Commonwealth Games for India, Day 2 proved to be less fruitful with just 3 medals being notched up.
Below is a quick look at the summary and results of action on Day 2 followed by the schedule for Day 3.
Day 2 Summary: The Indian men's hockey team prevailed over Wales with a 3-1 victory and take on hosts Scotland next.
Sunibala Huidrom missed out on a bronze medal in the women's 70 kg judo event to local judoka Sally Conway with Garima Choudhary also bowing out from the 63 kg category.
In the men's draw Balvinder Singh and Vikender Singh lost in the 73 kg and 81 kg categories respectively.
The Indian men's table tennis team ousted Guyana while the women's beat team Kenya.
Sanil Shankar Shetty and Amalraj beat Paul David and Christopher Franklin to advance to the next round in the men's doubles while Ankita Das and Poulomi Ghatak prevailed over Della Mgenya Njani and Sejan Dipan Thakkar in the women's doubles.
In the table tennis singles event, Soumyajit Ghosh, Manika Batra and Poulomi all advanced to round two.
Squash player Joshna chinappa was ousted by New Zealander Joelle King while Dipika Pallikal prevailed over Malaysian Delia Arnold.
The Indian cyclists, swimmer Sandeep Sejwal and pugilist Parveen Kumar all saw their campaign ended, while boxer Mandeep Jangra advanced to the round of 16 with an impressive performance in the 69 kg welterweight division.
Individual Events Schedule for 26 July
Men's Light Welterweight (64 kg)- Round of 32-Manoj Kumar vs Mokachane- 6:20 p.m.
Men's (75 kg)- Round of 32-Vijender Singh vs Andrew Kometa- 6:40 p.m.
Cycling (Track)
Women's Sprint Qualifying- Deborah, Kezia Vargheese,Mahitha Mohan - 3:30 p.m.
Men's 1000m time trial- Alan Baby, Amrit Singh, Amarjit Nagi-9:42 p.m.
Judo
Men's 90kg Round of 16-Avtaar Singh vs Matthew Purssey- 2:44 p.m.
Men's 100kg Round of 16-Sahil Pathania vs Raymond Normeshie- 2:41 p.m.
Men's +100kg Round of 16-Parikshit Kumar vs Abdul Razak- 3:02 p.m.
Women's 78kg quarterfinal-Jina Devi Chongtham vs Ana Laura- 3:19 p.m.
Women's +78kg quarterfinal-Rajwinder Kaur vs Myers- 3:40 p.m.
Lawn Bowls-Women's Fours-India v/s Northeren Ireland- 4:15 p.m.
Shooting
Men's 10m Air Pistol Qualification- Om Prakash, Prakash Nanjappa- 1:15 p.m.
Women's 10m Air Rifle Qualification- Apurvi Chandela, Ayonika Paul- 3:15 p.m.
Women's 25m Pistol Precision Qualification-Aneesa Sayyed, Rahi Sarnobat
Men's Skeet Qualification Day 2- Mairaj Khan, Baba Bedi – 1:30 p.m.
Weightlifting
Men's 69kg - Omkar Otari-2.30 p.m
Women's 58kg - Meena Kumari-5 p.m.
Women's 63kg - Punam Yadav and Vandna Gupta-5 p.m.
Team Events
Table Tennis-Women's Team Quarterfinal-India vs New Zealand – 2:00 p.m.
Hockey (Men's)-India vs Scotland – 8:30 p.m.
Where to Watch Live
Live coverage in India is on Ten Sports, with the live streaming option HERE and HERE. The action will be available live on CBS Sports in Canada with online streaming option HERE.
BBC will telecast the games live in the United Kingdom, with live streaming option HERE or follow the updates HERE. Network Ten will broadcast the Commonwealth Games live in Australia with an online viewing option HERE. For International viewers, including the United States, the action will be available live on official Commonwealth Games 2014 YouTube channel for free HERE.