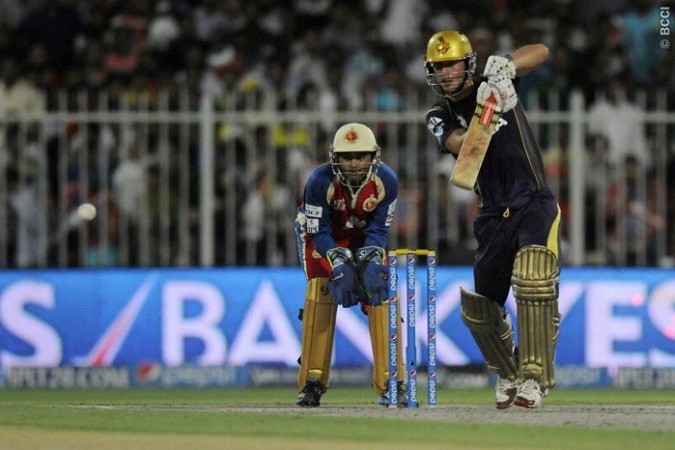 With the game going in the favour of the Royal Challengers Bangalore, the Kolkata Knight Riders desperately needed something dramatic, a moment of magic. In stepped Chris Lynn, who held onto an unbelievable catch to dismiss the dangerous AB De Villiers in the final over and help KKR pull off a how-did-that-happen two-run victory in their IPL 2014 game in Sharjah.
RCB were cruising to a comfortable win, chasing down a not-too-formidable target of 151, before some unbelievable death bowling, Virat Kohli's late wicket, and that outstanding catch from Lynn turned the match in KKR's favour in dramatic fashion.
"It was an incredible win," said KKR skipper Gautam Gambhir, who fell for a third straight duck. "We deserved some luck too as we have had a number of these last-ball finishes in the IPL.
"We were 10 runs short but we always felt we were in the game. We felt we could pull things back as once the ball got a little old, it was difficult to find the boundary. So we had it in mind that once the ball got that old, we had a chance.
"We were scratchy with the bat, and with the ball, so we need to improve on those areas. The catch was unbelievable and Chris deserves all the awards."
Kohli will be still wondering just how RCB let this game slip out of their grasp as the Bangalore franchise suffered their first defeat of IPL 2014 in stunning fashion.
"We lost that game rather than KKR winning it, to be honest," Kohli said. "With all the wickets in hand we would usually over the line nine times out of 10, but credit to their bowlers, who bowled really well in the death overs.
"We played some really good cricket today, but we were not good enough at the death. However, we can take a lot of positives from this game going forward."
Watch the highlights of the game, including the amazing Chris Lynn catch HERE, HERE or HERE.