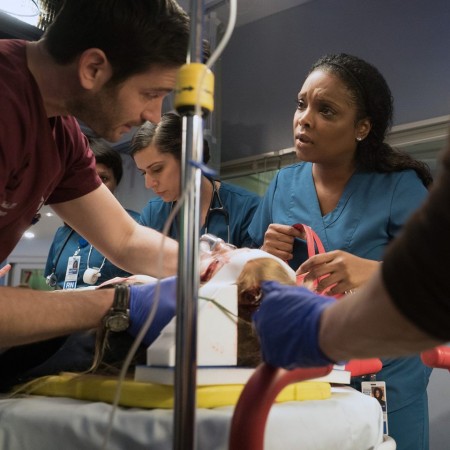 In the upcoming episode titled "Hearts" of NBC's Chicago Med Season 1, (Colin Donnell) Dr Connor Rhodes and Dr Will Halstead (Nick Gehlfuss) might find themselves getting closer after a certain incident takes place in the hospital.
CLICK HERE to watch what will bring Will and Connor closer and how the other staff of the hospital will react to it.
According to TV Fanatic, Episode 14 will showcase a case that involves suspected child abuse and it will anger the doctors in the hospital. It seems that while trying to find the reason behind the admitted kid's injuries, Will and Connor will get close to each other.
The website also reported that Charles (Oliver Platt) and Choi (Brian Tee) will work together to treat a patient with an unusual issue, while Sarah (Rachel DiPillo) will doubt her career as a pathologist and will seriously reconsider changing the profession.
The synopsis of the episode, as stated by TV.com, reads: "Nurse Lockwood (Marlyne Barrett) gets arrested when she takes a stand. Meanwhile, Dr Halstead deals with a pending lawsuit against him; a baby's injuries come into question; Dr Charles faces personal issues; and suspicions rise about a patient who was hit by a car."
In the previous episode titled "Us," still dealing with the fallout of his DNR patient, Dr Halstead tried to organise a baptism for Dr Manning's (Torrey DeVitto) son. In the meantime, April (Yaya DaCosta) befriended a father of a patient who was rushed in for swallowing magnets.
Elsewhere, Sarah performed a procedure she was not qualified for on a patient while awaiting the results of her residency match, and Dr Charles diagnosed a patient with a rare genetic disorder when he tried to saw off his own arm.