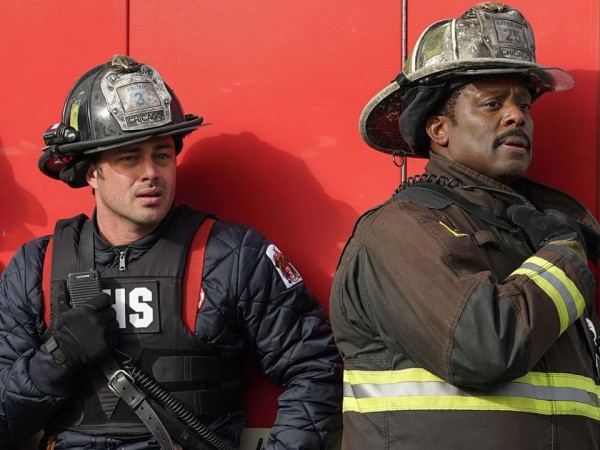 In the upcoming episode titled "All Hard Parts" of NBC's "Chicago Fire" Season 4, it seems that after tolerating Chili's (Dora Madison) annoying behaviour for a long time, Severide (Taylor Kinney) finally decides to confront her and tell her about it.
CLICK HERE to watch how Chili will react to Severide's confrontation and whether it will bring any changes to her or not.
The synopsis of the episode reads:
"Severide confronts Chili about her erratic behaviour while members of the firehouse rally around Casey (Jesse Spencer), who they think would make a great candidate for alderman. Elsewhere, Jimmy (Steven R. McQueen) squares off against Antonio (Jon Seda) in the first annual 'Battle of the Badges' boxing match."
Severide had previously complained to Boden (Eamonn Walker) about Chili's behaviour. However, Boden was busy with other stuff so he didn't get time to talk with Chili.
After a while, when Severide realises that he was not able to take it anymore, he decided to confront Chili all by himself and asks her about her behaviour and whether there is any particular reason behind it or not.
Elsewhere, the members of Firehouse 51 urge Casey for becoming a candidate for alderman. However, Casey is a bit reluctant as he is not sure if he can take such a big responsibility.
Jimmy finally wins the first annual "Battle of the Badges" boxing match by defeating Antonio from "Chicago P.D." even though he was almost sure that he was going to lose it.
Whether Severide will manage to convince Chili to change her behaviour or not, will be seen only in the upcoming episode.
In the previous episode titled "The Sky Is Falling," Chili's erratic behaviour became extreme when she asked Chief Boden to transfer Brett (Kara Killmer) to another house after Brett complained to Boden about Chili.
Meanwhile, Firehouse 51 prepared for a terrorist threat in Chicago. Elsewhere, Hermann (David Eigenberg) signed Jimmy up for a charity boxing match with the police and Casey investigated the missing money from the fundraiser that was supposed to help the citizens from the tornado.