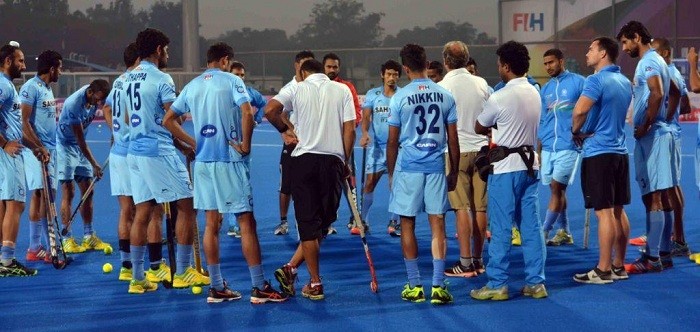 India are desperate for a victory after losing their first two matches in the Champions Trophy 2014, but it does not get any easier with Netherlands their next opponents in Bhubaneswar.
After a day's break, India will hope to have ironed out the chinks which led them to defeats against Germany and Argentina. While the hosts did decently well against Germany, only going down 1-0, they were quite poor defensively against Argentina, losing 4-2.
"The mistakes which we did [against Argentina] we tried to rectify it today [in training]," India drag-flicker VR Raghunath said. "And we have planned to put up a very good show, our best show which we can put up.
"We are also prepared mentally for the main target, which is the quarterfinals. So, we are prepared for that whoever we will be facing.
"We are really disappointed about the performance [against Argentina]. We had a very friendly meeting today [Monday] and we will make sure that we don't repeat the mistakes."
Any kind of mistakes, even the slightest one, will be punished by the Netherlands, who have made a storming start in the Champions Trophy, winning both their games so far. They have already scored seven goals, while conceding just one against Argentina and Germany, and Holland will go into this match against India as the overwhelming favourites.
"We will try to put up a good show in the defence," added Raghunath. "The main thing is that there should be no lapse in the defence."
While a knockout berth is certain for all teams, India will know the importance of avoiding the big guns in the quarters, and the only way to do that is by picking up a victory and hope they finish third.
Much will depend on the other game in Pool B as well with Argentina and Germany going head to head.
"To be practical we should forget what happened in the last two matches and think about the Holland match and the quarterfinal," Raghunath said. "We should just take the positives from the last two matches and prepare ourselves for the future games."
The Argentina vs Germany match will be the first one of the day, with England, in top form and looking outstanding, then playing Belgium. Australia will take on Pakistan, desperate to bounce back after a momentous defeat to England, in the third game, before India and the Netherlands clash against each other.
Champions Trophy 2014 Schedule Day 3: Argentina vs Germany (12 pm IST, 6.30 am GMT)
England vs Belgium (2 pm IST, 8.30 am GMT)
Australia vs Pakistan (5.30 pm IST, 12 pm GMT)
India vs Netherlands (7.30 pm IST, 2 pm GMT)
Where to Watch Live
Day 3 action of the Champions Trophy 2014, including India vs Netherlands, will be shown live in India on Ten Sports. Viewers can also catch the matches via live streaming online on Ten Sports Live.
Viewers across the world can also live stream the action on the Youtube channel of FIH.